Global Locations Annual Report 2018: Service Delivery Portfolios in a Disrupted World
---
The global services landscape is at the tipping point of transformation. There are many changes that are taking place from a macroeconomic and legal perspective in key onshore/source locations. While these may influence the market in the long run, their impact at present is uncertain. The global services market is manifesting this uncertainty in terms of muted growth in revenue, talent pool, and center set-up activity.
There are also shifts in the traditional services delivery landscape. While Asia Pacific continues to dominate this space, Nearshore Europe also witnessed significant growth, particularly for digital services. It would also come as no surprise that reshoring continues to be a prominent trend as protectionism rises.
The Global Locations Annual Report 2018 takes a stance in describing the nuances of the global services locations landscape, interpreting locations-related developments and trends for designing locations portfolio strategy. It presents insights into the size and growth of this market, global services exports by region & country, update of locations activity by region & country, and trends affecting global locations (changes in investment environment, key developments across the world, and changes in exposure to various risks). It also provides industry-leading comparison and analysis of key changes in maturity, arbitrage, stability, and potential of global delivery locations (cities) through our unique PEAK Matrix™.
Contents:
This report has three tenets:
Key Trends Shaping the Landscape

Growth of the global services market: An update on the size and growth of the global services exports market by revenue, headcount, and center set-up activity
Evolving geography-specific trends: Perspectives on global services delivery in 2017 by region
Shifting sourcing models and services mix: An update on key trends vis-à-vis functions supported, evolving sourcing strategies, and uptick in digital activity
The rise of reshoring: Insights on key trends around service provider activity in offshore and onshore locations
Risk Watch

Risk dashboard – risk ratings across parameters, such as quality of infrastructure, safety & security, geopolitical, and macroeconomic environment, for leading (offshore and nearshore) delivery locations across the region
Updates on key changes in risk profiles for various delivery locations – important events in the past year that are likely to impact important delivery locations across the region (e.g., new tax reforms in the Philippines affecting the IT/BP sector, changes in U.S. trade policies affecting Mexico's service delivery landscape, impact of social security contribution regulation in Poland, and expected evolution of service delivery portfolios amidst the adoption of GDPR)
Key risks/opportunities to watch out for at various delivery locations across various regions (e.g., Bangladesh's emergence as an attractive service delivery location amidst new government incentives, Colombia emerging as an attractive location for IT services delivery, Polish tier-3/4 cities witnessing strong growth in service provider activity, and emerging locations in Nearshore Europe for IT and engineering services delivery)
PEAK Matrix™: Objective, data-driven, and comparative assessment of locations specific to a market segment (function and process). Key market segments in scope include:

Information Technology – Application Development and Maintenance (IT-ADM)
Contact center (English language)
Transactional Business Process Services (BPS)
Complex/judgment-intensive BPS
Bilingual (Spanish and English language) BPS
Multi-lingual (European languages) BPS
Analytics
Digital services
Engineering/R&D services
IT services in the United States of America
The report also provides data tables with details of new centers that were set up in 2017 for global services delivery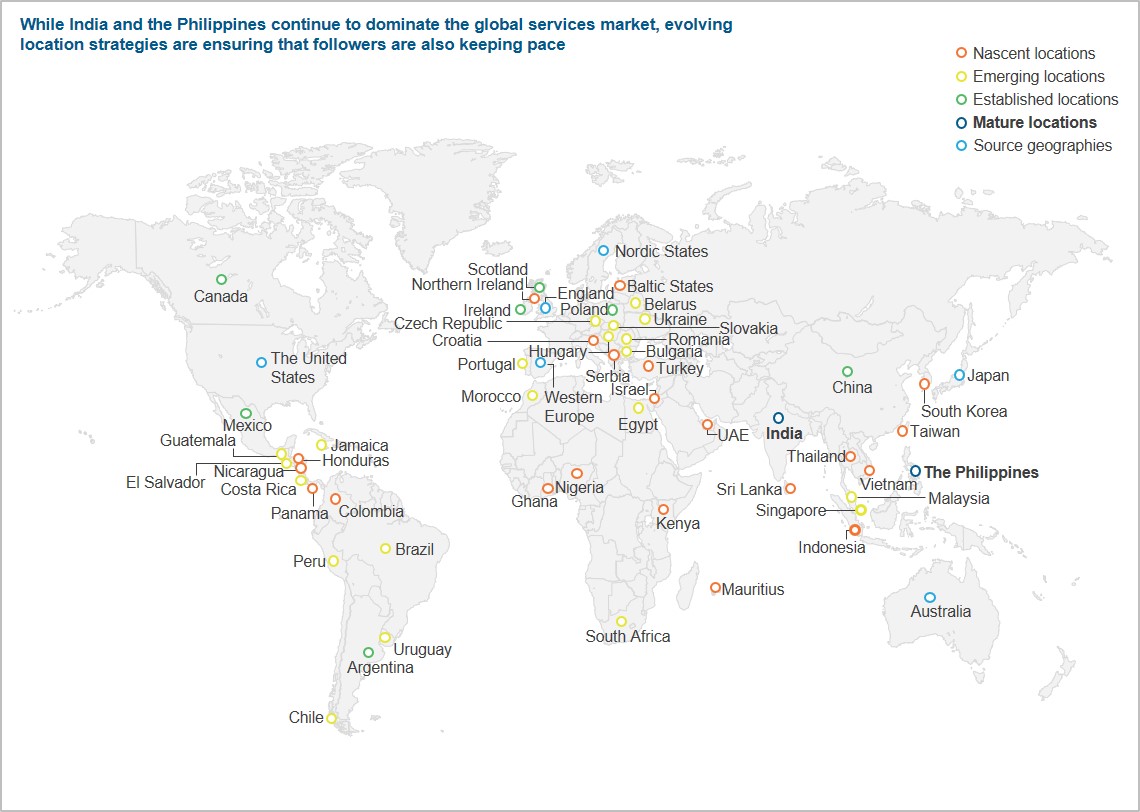 Membership(s)
---
Page Count: 56