The pace of technology disruption, changing consumer preferences, and the need for banks to come up with new business models are disrupting the current banking landscape. Banks are moving away from being perceived as a physical structure that offers financial services/products and are becoming an ambient fabric connecting people and businesses.
As banks embark upon the transformation journey, access to talent with capabilities across emerging themes is becoming a key challenge. Banks are quickly realizing that this is not a technology war, rather a war for talent. At the same time, there is a need to take these emerging solutions to market at a pace that can help them stay ahead in the competitive curve. Given the rapidly-evolving technology landscape, partnership with the technology service providers, who can bring talent and help banks improve time-to-market becomes pertinent.
Accordingly, service providers have stepped up their investments to deliver a holistic front-to-back digital transformation. They are inclined toward developing talent and have been focused on developing solutions and accelerators.
In this research, we analyzed the capabilities of 25 leading IT application service providers, specific to the global banking sector. These providers were mapped on the Everest Group PEAK MatrixTM, which is a composite index of a range of distinct metrics related to each provider's vision & capability and market impact. In this report, we focus on:
The landscape of service providers offering application services to banking enterprises
Assessment of service providers on several capability-related dimensions
Characteristics of Leaders, Major Contenders, and Aspirants on the Everest Group Banking Application Services PEAK Matrix™
"Star Performers" of 2018, providers with the strongest forward movement over time
Implications for banking enterprises and service providers
SCOPE OF THE ANALYSIS
Banking application services trends and their implications for key stakeholders
Everest Group Banking Application Services PEAK Matrix™ 2018
Star Performers on the Banking Application Services PEAK Matrix™ 2018
Banking application services market size and revenue analysis
Banking application services demand themes:

Agile/DevOps implementation
Application maintenance
Application modernization
Customer experience management
Cybersecurity
Data management
Digital transformation
Product/platform implementation

Profiles of banking application service providers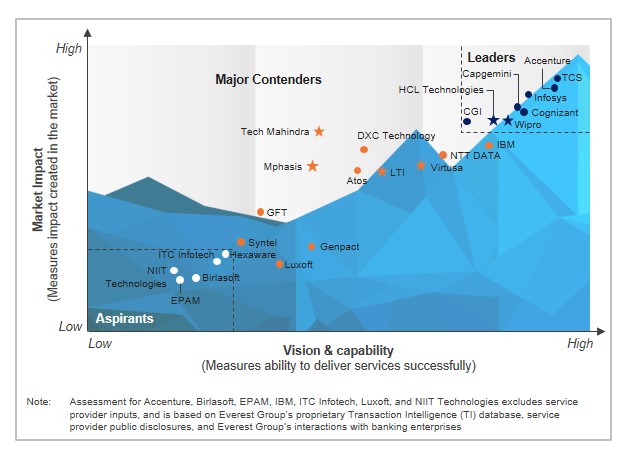 Membership(s)