With high time-to-market, increase in drug safety breaches, and the industry lagging behind in overall technology adoption, the pharmaceutical sector is crying out for a change in approach.
DevOps as a methodology seems to check all the boxes. Having successfully been implemented in the software industry to respond to fluctuating demands, provide better customer experience, and reduce time-to-market, we describe out how the concept might be extended to pharmaceuticals to tackle the challenges that the industry inherently faces.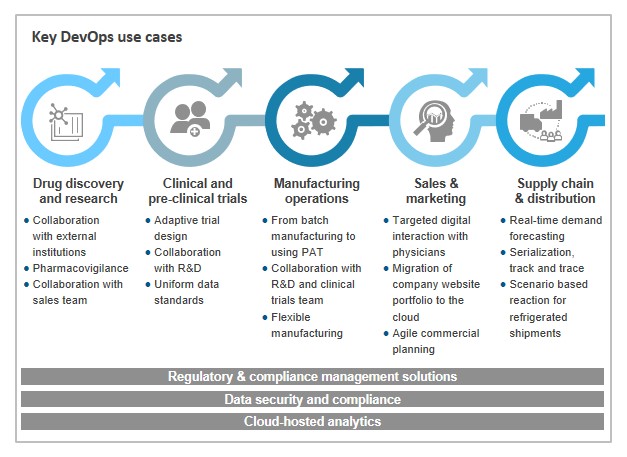 With pharma firms looking to crunch drug development cycles and minimize drug safety breaches, the time seems ripe for them to make DevOps their next big bet. Technology aspects such as automation and cloud computing coupled with softer aspects such as a cross-functional organizational structure and an agile working culture can drive DevOps enablement. Service providers can help enterprises in their DevOps journey by devising roadmaps, aiding with change management and providing the necessary technology support.
This report takes a look at the concept of DevOps, puts forward a number of DevOps use cases across the pharmaceutical value chain and evaluates each to decide which is the most suited for implementation if progressive business impact is to be realized. It also lays out a three-stage future implementation roadmap for pharmaceutical enterprises.
This report is structured across four key sections:
DevOps in the digital era

How DevOps has evolved with time and across industries
Enablers and applicability
Benefits and challenges
Enterprise adoption and role of service providers

DevOps enablement across the pharma value chain

Current state of the pharma industry
The pharma value chain and DevOps use cases
Evaluating use cases for DevOps amenability and business impact
Prioritization of DevOps use cases

Successful case studies of DevOps adoption in pharma
Pharma enterprise roadmap for DevOps implementation
Membership(s)