Rewards and Recognition (R&R) Outsourcing Market Report 2019 - Driving Enhanced Employee Engagement Through Tailored R&R Solutions
---
by

Anil Vijayan, Snigdha Kakkar, Priyanka Mitra
The Rewards and Recognition (R&R) outsourcing market has emerged as one of the fastest growing markets in the HRO space, clocking a growth rate of ~14% between 2016-2017. With employee engagement and experience becoming increasingly important to enterprises, the market is witnessing an increasing demand for R&R services from buyers of all sizes. This demand is bolstered by emerging market challenges such as changing workforce demographics and a rapidly evolving technology landscape.
The market is dominated by specialist R&R providers who are now trying to expand their role from "just R&R program administrators" to strategic partners who can provide a gamut of services including consultative support (designing effective R&R programs), access to advanced technology solutions (such as advanced analytics, AI-based chatbots, & decision support tools), and employee wellness & performance management services.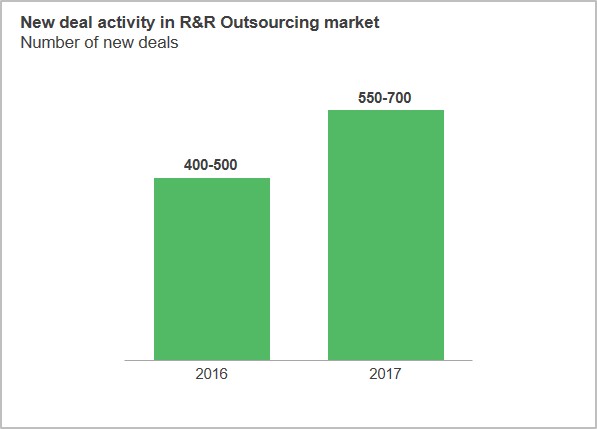 With rapid growth of the R&R outsourcing industry, the competition too has intensified. Service providers are making aggressive investments to expand their offerings portfolio and regional presence, leveraging both organic and inorganic approaches.
In this research, we analyze the R&R outsourcing market across various dimensions:
R&R outsourcing market overview
Buyer adoption trends
Solution and transaction trends
Service provider landscape
Scope of analysis
Third-party R&R deals; it does not include shared services or Global In-house Centers (GICs)
Coverage across 18 R&R service providers including Achievers, BI Worldwide, Engage2Excel, Globoforce, HALO Group, Inspirus (a Sodexo group company), ITA Group, Kudos, Madison PG, Maritz Motivation Solutions, Marketing Innovators, O.C. Tanner, RewardGateway, Rymax Marketing Services, Inc., TerryBerry Company, WorkStride, Xexec, and Zaggle
Coverage across all industries and geographies
Content
This report provides a comprehensive coverage of the 2017 R&R outsourcing market and analyzes it across various dimensions such as market overview, buyer adoption trends, solution & transaction trends, and service provider landscape. Some of the findings in this report are:
The R&R outsourcing market is growing rapidly at an average pace of ~14%
Small market enterprises outpaced the other market segments to become the largest adopter of R&R outsourcing
North America continues to occupy lion's share of the market, with Europe and Asia Pacific being the other major markets. Latin America and the United Kingdom are emerging markets with good potential for the future
Buyers are increasingly seeking solutions that are easily configurable, deployable, and accessible to all employees. Thus, solutions that are mobile-enabled have a distinct competitive advantage
Among the next-generation technologies, adoption of basic analytics (reporting and dashboards) has gained the maximum traction. Adoption of Robotic Process Automation (RPA), Artificial Intelligence (AI), advanced forms of analytics (predictive & prescriptive) is in their nascent stages. Providers are trying to leverage these next-gen technologies to offer sophisticated and personalized solutions to the employees. New use-cases are also emerging for predictive and prescriptive analytics
R&R outsourcing is an onshore-centric market with 80-85% of the FTEs in onshore locations. The majority of R&R service providers leverage onshore locations to provide on-time delivery services to the participants
Service providers are focusing on their strengths and/or expanding their R&R capabilities, leading to M&As and realignment of strategies
Membership(s)
---
Page Count: 55