Procurement Outsourcing (PO) BPO – Service Provider Landscape with Services PEAK Matrix™ Assessment 2018
---
by

Rajesh Ranjan, Vatsal Gupta
The PO service provider landscape is changing rapidly as providers look at enabling end-to-end transformation journeys for clients by adopting a partner-led approach. This is leading to a rapid rise of digital along with a shift in focus from cost reduction to driving business outcomes. Increasing investments and application of advanced/cognitive analytics, Robotic Process Automation (RPA), Internet of Things (IoT) and Blockchain fuel this scenario.
In this research, we analyze the PO service provider landscape across different dimensions:
2018 PO PEAK Matrix and Star Performers
Service provider delivery capability assessment
The scope of analysis includes:
Third-party PO deals; it does not include shared services or Global In-house Centers (GICs)
Over 1,500 multi-process PO deals signed as of 2017, with a minimum of three procurement processes, over US$1 million in ACV, and a minimum contract term of three years. Typically, managed spend is greater than US$50 million
Coverage across 13+ PO service providers with multi-process capability, namely Accenture, Aegis, Aquanima, Capgemini, Corbus, Genpact, GEP, HCL, IBM, Infosys, TCS, Wipro, and WNS
Global survey and one-on-one executive-level buyer interviews to understand how organizations perceive their PO engagements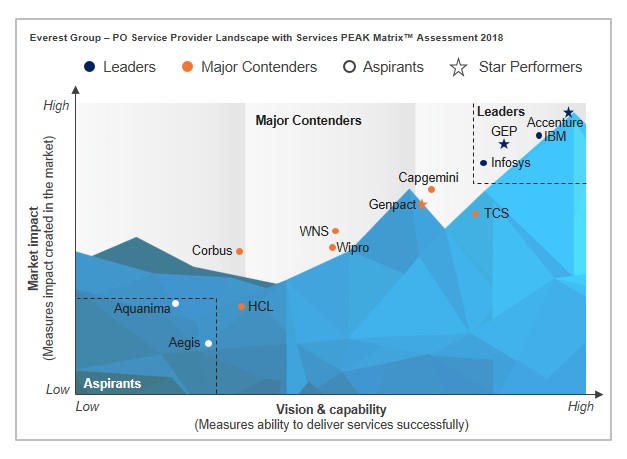 Content
The report analyses the performance of various service providers in PO along six dimensions and includes the following:
2018 PO PEAK Matrix and Star Performers

Everest Group classified 13+ PO service providers on Everest Group's proprietary PEAK Matrix framework into

Leaders: Accenture, GEP, IBM, and Infosys
Major Contenders: Capgemini, Corbus, HCL, Genpact, TCS, Wipro, and WNS
Aspirants: Aegis and Aquanima

Based on YOY movement of different service providers on the PEAK Matrix, Everest Group identified five service providers as the "2018 PO Market Star Performers" – Accenture, GEP, and Genpact

Everest Group analysis of service providers

We assessed the overall PO capability of service providers by evaluating them along seven dimensions – scope, innovation & investments, delivery footprint, vision & strategy, market adoption, portfolio mix, and value delivered
Everest Group has a complimentary four-page PEAK Matrix preview document for this service provider landscape report.
Membership(s)
---
Page Count: 47