Contact Center Outsourcing (CCO) – Service Provider Landscape with Services PEAK Matrix™ Assessment 2018
---
The global CCO market picked up pace and grew at ~4% to reach US$81-83 billion in 2017. While many of the service providers have exhibited strong growth on the back of various acquisitions made in the last couple of years, the market, in general, leapt out of uncertainties that were being observed in 2016 owing to multiple geo-political factors and showed good recovery. As the industry is consolidating its steps towards digital, many first-time buyers have also shown preference for outsourcing due to the value-addition and cost benefits that it brings to the table. Many more service providers have realigned themselves in line with the evolving buyer demands. They utilized 2017 to strengthen their digital capabilities specifically related to advanced analytics, automation, cognitive/AI, and omnichannel solutions. They have also invested in consulting, customer journey mapping, and design thinking competencies to prepare themselves for the increasing demand for end-to-end CX transformation from buyers.
In this research, we analyze the CCO market across various dimensions:
CCO PEAK Matrix 2018
Key insights into the PEAK Matrix dimensions
Strengths and areas of improvements for individual service providers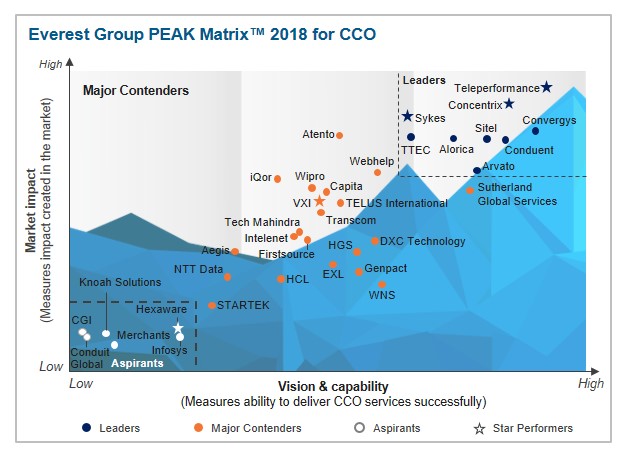 Scope of analysis
More than 2,500 active CCO deals (as of December 2017) tracked annually by Everest Group
Coverage across 35+ CCO service providers including Aegis, Alorica, Atento, Arvato, Capita, CGI, Concentrix, Conduent, Conduit Global, Convergys, DXC Technology, EXL, Firstsource, Genpact, HCL, Hexaware, HGS, Infosys, Intelenet, iQor, Knoah Solutions, Merchants, NTT DATA, Sitel, STARTEK, Sutherland Global Services, Sykes, Tech Mahindra, Teleperformance, TELUS International, TTEC, Transcom, VXI, Webhelp, Wipro, and WNS
Content
This report examines the global Contact Center Outsourcing (CCO) market and evaluates the positioning of service providers on the Everest Group PEAK Matrix. It provides insights on the changing market dynamics, service provider delivery capabilities, and Everest Group's remarks on service providers' key strengths and areas of improvement.
Some of the findings in this report are:
Everest Group classifies 35+ CCO service providers on the Everest Group Performance | Experience | Ability | Knowledge (PEAK) Matrix into three categories of Leaders, Major Contenders, and Aspirants. The PEAK Matrix is a framework to assess the relative market success and overall capability of service providers

Leaders: Alorica, Arvato, Concentrix, Convergys, Conduent, Sitel, Sykes, Teleperformance, and TTEC
Major Contenders: Aegis, Atento, Capita, DXC Technology, EXL, Firstsource, Genpact, HCL, HGS, Intelenet, iQor, NTT DATA, STARTEK, Sutherland Global Services, Tech Mahindra, TELUS International, Transcom, VXI, Webhelp, Wipro, and WNS
Aspirants: CGI, Conduit Global, Hexaware, Infosys, Knoah Solutions, and Merchants

Based on the relative YOY movement of each service provider, Everest Group identified five service providers as the "2018 CCO Market Star Performers" – Concentrix, Hexaware, Sykes, Teleperformance, and VXI
CCO specialists account for a majority of the CCO revenues and, in 2017, grew at above-market rate. IT+BPO players displayed very strong growth due to their small base as well as acquisitions
Teleperformance is the only player to rank among the top service providers across all geographies and industry verticals
The buyers were highly satisfied with BPO pure-plays across new-age parameters such as knowledge and implementation of next-generation solutions
BPO pure-plays have been quick to adapt to the changing buyer needs as they have built strong capabilities around value-added services and non-voice channels, which hold them in good stead going into the future
Membership(s)
Customer Experience Management (CXM) Services, including Contact Center Outsourcing
---
Page Count: 80