Analytics Business Process Services (BPS) – Service Provider Landscape with Services PEAK Matrix™ Assessment 2018
---
by

Vishal Gupta, Sharang Sharma
Next-generation technologies, such as Internet of Things (IoT), Artificial Intelligence, and automation, are driving the new wave of revolution in the industry. While analytics is being recognized as the key pillar of digital revolution, it has managed to retain its value as a stand-alone package. The growth has slowed over the last few years on the back of rising maturity, especially in North America; however, analytics BPS continues to be the shining beacon in the BPS industry and managed to clock double-digit growth again in 2017.
Clients increasingly look for end-to-end solutions through analytics rather than siloed solutions to improve their key business metrics. Service providers are hence, aligning their services to this demand, harvesting their larger BPO deals by providing a component of analytics in it. Service providers are also looking to integrate analytics as a single offering across their IT and BPS operations – to drive synergy between the two arms and deliver a one-stop solution to the clients. Productized solutions are also gaining more prominence in the market due to their lower cost and quicker deployment. With technologies such as IoT paving way for the next wave of data disruption, clients and service providers need to ensure they have the right capabilities to collect, clean, and handle this data while drawing meaningful insights from it.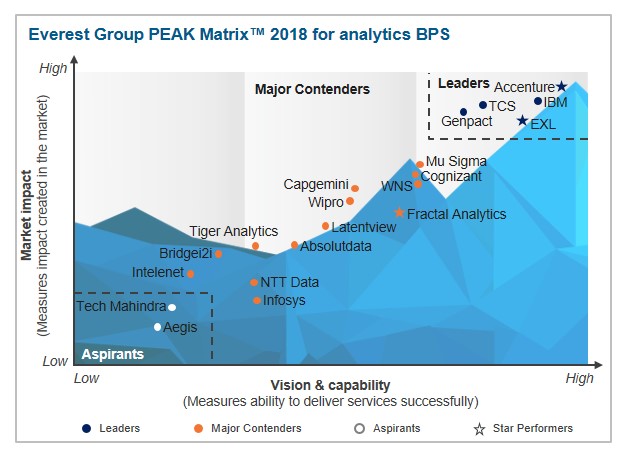 This study assesses the analytics business process capabilities of different service providers (legacy BPO providers and analytics specialists) and evaluates their positioning on the Everest Group PEAK Matrix.
In this research, we focus on different aspects of the analytics BPS market:
Relative positioning of 20 service providers on the Everest Group PEAK Matrix for analytics BPS
Analysis of service providers' market shares
Key strengths and development areas for service providers
Scope of analysis
Analytics BPS offered by either BPO providers or analytics-focused specialists. It excludes pure IT services implementation of an analytics solution
Coverage across all major industries and functional areas
Coverage across 20 analytics BPS service providers, including Absolutdata, Accenture, Aegis, Bridgei2i, Capgemini, Cognizant, EXL, Fractal Analytics, Genpact, IBM, Infosys, Intelenet, Latentview, Mu Sigma, NTT Data, TCS, Tech Mahindra, Tiger Analytics, Wipro, and WNS
Content
This report provides insights into the global analytics business process services (BPS) market and examines the service provider landscape and its impact on the market. It focuses on service provider position & growth in the market, changing market dynamics & emerging service provider trends, and assessment of service provider delivery capabilities.
Some of the findings in the report are:
Everest Group classifies 20 analytics BPS service providers on Everest Group's proprietary PEAK Matrix framework into:

Leaders: Accenture, EXL, Genpact, IBM, and TCS
Major Contenders: Absolutdata, Bridgei2i, Capgemini, Cognizant, Fractal Analytics, Infosys, Intelenet, Latentview, Mu Sigma, NTT Data, Tiger Analytics, Wipro, and WNS
Aspirants: Aegis and Tech Mahindra

Accenture, EXL, and Fractal Analytics have been identified as Star Performers on the Analytics BPS PEAK Matrix
Accenture, Genpact, IBM, and TCS are the leading analytics BPS service providers by revenue and showed a strong foothold across most geographies & industries
Given the large market size and appreciable growth rate, a lot of service providers tend to focus on the North American market over other geographies, which has resulted in a very competitive service provider landscape
Everest Group has a complimentary five-page PEAK Matrix preview document for this service provider landscape report.
Membership(s)
Banking and Financial Services (BFS) - Business Process Outsourcing (BPO)
Customer Experience Management (CXM) Services, including Contact Center Outsourcing
Finance & Accounting Outsourcing
Healthcare & Life Sciences Business Process Outsourcing
Human Resources Outsourcing (HRO)
Insurance - Business Process Outsourcing (BPO)
---
Page Count: 47