IoT is fast becoming a strategic priority for large enterprises, and is being viewed as a lever to achieve the desired digital transformation and business growth. With the anticipation of high return on investment (ROI) and quantified benefits from IoT, the expectation from service providers have also increased manifold. Enterprises expect a partnership-based engagement from service providers. They expect service providers to bring in innovation proactively, keep them updated with the changing technology landscapes, and guide them in achieving their business objectives.
Accordingly, service providers have stepped up their investments to deliver a holistic IoT engagement. Advanced verticalized solutions leveraging next-generation technology capabilities, a strategic partnership ecosystem, and continued investment in R&D are some of the mechanisms adopted for value delivery to enterprises.
In this research, we present an assessment and detailed profiles of 18 IoT service providers featured on the IoT services PEAK Matrix. This is a composite index of a range of distinct metrics related to a service provider's scale, scope, technology/domain investments, delivery footprint, and resultant market success in the context of a given service function. Each service provider profile provides a comprehensive picture of its service focus, key Intellectual Property (IP) / solutions, domain investments, and two case studies.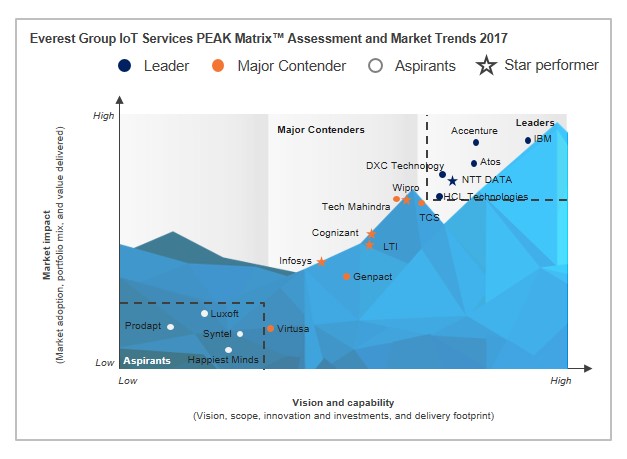 Scope of the analysis
This research also captures fact-based trends impacting the IoT services market and provides an assessment of IT service providers / system integrators that are involved in delivering IoT services such as system design, platform orchestration, application development, data analytics, managed services delivery, and infrastructure & security services.
This report provides an assessment of 18 IT service providers (native system integrators) that provide IoT services. It includes the following providers: Accenture, Atos, Cognizant, DXC technology, Genpact, Happiest Minds, HCL Technologies, IBM, Infosys, LTI, Luxoft, NTT DATA, Prodapt, TCS, Tech Mahindra, Syntel, Virtusa, and Wipro.
Contents
The research focuses on IoT services and includes:
Overview of IoT services market and key trends
PEAK Matrix assessment of 18 leading IoT service providers
Service provider profiles covering the following aspects:

Overview of the provider's IoT services business – scale, overall portfolio of services, and relative focus across service lines & geographies
Assessment of the provider's IoT services delivery capability, domain investments, key solutions, and key partnerships
Strategic focus areas and market success for IoT service areas
Two short IoT case studies
Everest Group has a complimentary four-page PEAK Matrix preview document for this service provider landscape report.
Membership(s)