Security threats are increasing in complexity, size, and variety. The rapid digitalization has made the enterprise IT security landscape highly complex and challenging to handle, as CISOs look to guard their enterprise environments against burgeoning internal and external threats. The proliferation in digital touch-points, driven by increasing adoption of next-generation technologies / delivery models such as cloud, IOT, mobility, and social media, has rendered the existing traditional enterprise security and risk mitigation strategies obsolete. Enterprises are now required to take a more intelligence-driven and holistic security approach to deal with this rapidly changing threat landscape. Service providers need to make continuous investments in delivering next-generation security services that support the digitalization movement of enterprises.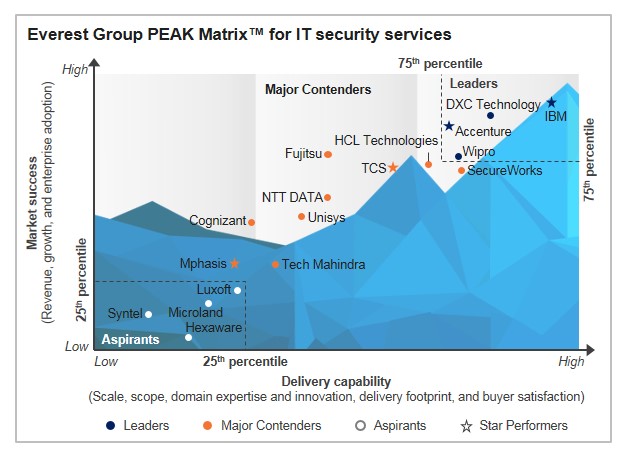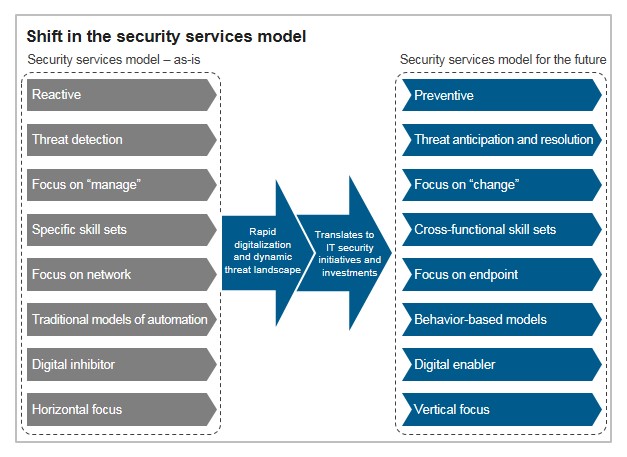 In this research, we present the assessment and detailed profiles of 17 IT service providers featured on the PEAK Matrix for IT security services. Each service provider profile gives a comprehensive picture of their IT security services vision, scale & nature of operations, and domain investments.
Scope of the analysis
This research provides fact-based trends impacting the IT security services market and provides an assessment of the below-mentioned IT service providers / system integrators associated with IT security services.
The report covers the following IT service providers: Accenture, Cognizant, DXC Technology, Fujitsu, HCL Technologies, Hexaware, IBM, Luxoft, Microland, Mphasis, NTT DATA, SecureWorks, Syntel, TCS, Tech Mahindra, Unisys, and Wipro.
Contents
Each profile covers the following aspects of the featured service providers:
General overview of the provider's IT security services business – scale, overall focus, and extent of adoption of the provider's IT security services across enterprise segments & geographies
Overview of the provider's IT security services business – overall portfolio of services and relative focus across service lines
Assessment of the provider's IT security services delivery capability, domain investments, key solutions, and key partnerships
Strategic focus areas and market success for IT security service areas
Everest Group has a complimentary four-page PEAK Matrix preview document for this service provider landscape report.
Membership(s)