Managed Service Provider (MSP) Annual Report 2016 – Embracing the New Talent Landscape
---
The global Managed Service Provider (MSP) market continued to remain one of the fastest growing single-process HRO markets. It posed a high growth rate of 12% in 2016 backed by the strong rise in the emerging markets of Asia Pacific and Latin America. The market is also undergoing a significant change as other service providers from the BPO and PO areas make inroads in what was earlier the exclusive domain of traditional MSP providers. This is in part necessitated by the changing face of MSP with a broadening of its scope to include SOW / services procurement as well.
In this research, we analyze the MSP market across various dimensions:
Market overview
Evolving market situation
Buyer adoption characteristics
Solution dynamics
Service provider capabilities
SCOPE OF ANALYSIS
A minimum of four MSP processes are included
A minimum contract term of two years
Scope of hires includes temporary/contingent hires, SOW consultants, and independent contractors
All geographies, industries, and job families
The following service providers have been analysed as a part of this report: Agile•1, Allegis Global Solutions, Alexander Mann Solutions, AMN Healthcare, Capita Resourcing, Geometric Results Inc., Hays, HCMWorks, KellyOCG, nextSource, Pontoon, PRO Unlimited, Randstad Sourceright, Superior Group, Tapfin, Yoh, ZeroChaos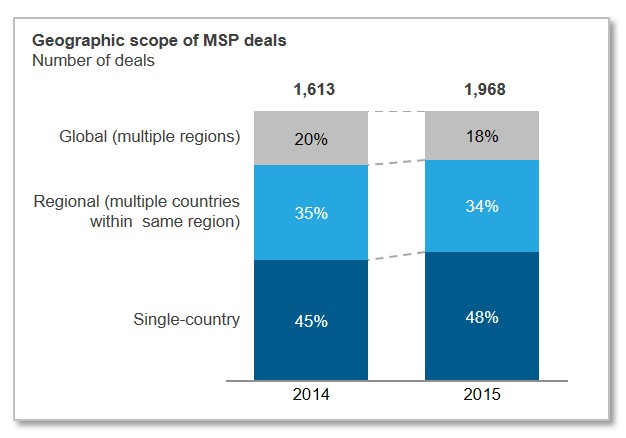 CONTENT
This research provides comprehensive coverage of the 2016 MSP market and analyzes it across various dimensions such as market overview, evolving market situation, buyer adoption trends, solution trends. Some of the key findings are:
MSPs dominate the temporary labor management area while BPOs lead in the services procurement area. However, the challengers are witnessing faster growth than the leaders in each case
With an increased inclusion of freelancers in the workforce, buyers are looking to MSP to help them mitigate various types of risks and contain costs. MSP service providers are investing in developing Freelancer Management Systems (FMS), in order to serve buyer requirements.
Increasingly holistic approach to talent management is leading to adoption of the blended model. The blended model has seen the most penetration in Europe, especially in United Kingdom, while other regions are still to see any significant adoption.
MSP deals are increasingly becoming multi-country in scope, including global multi-continent deals. However, only a few service providers have strong capabilities in this space. The market is also witnessing higher adoption of large and mega- sized deals, led by multi-country deals and expanding scope of MSP deals.
Membership(s)
---
Page Count: 58