Poland Tier-2/3 Cities: Complementing Tier-1 Cities or Carving a Niche for Digital Services?
---
The cities in Poland play a critical role in the delivery of global services for both global and European players. As the global services industry matures, there is a gradual shift in the mix of locations being leveraged. With increasing competition, companies are looking to reduce costs and access additional talent pool for services delivery. The last few years have witnessed a surge in interest for global services delivery from tier-2 and tier-3 cities in Poland. Further, the "digital winds of change" have forced players to rethink their sourcing strategy to build and sustain digital capabilities. Unlike other geographies (e.g., India and the Philippines), where tier-1 cities account for more than 70% of all digital delivery centers, Poland has witnessed significant activity for digital services in tier-2/3 cities as well.
Cultural affinity, time-zone similarity, and low-risk environment make these locations attractive for the delivery to Western Europe. At the same time, these cities offer certain challenges such as lack of depth of talent and relatively inferior quality of infrastructure. The report takes a closer look at the value proposition offered by tier-2/3 locations in Poland as delivery destinations for global services industry.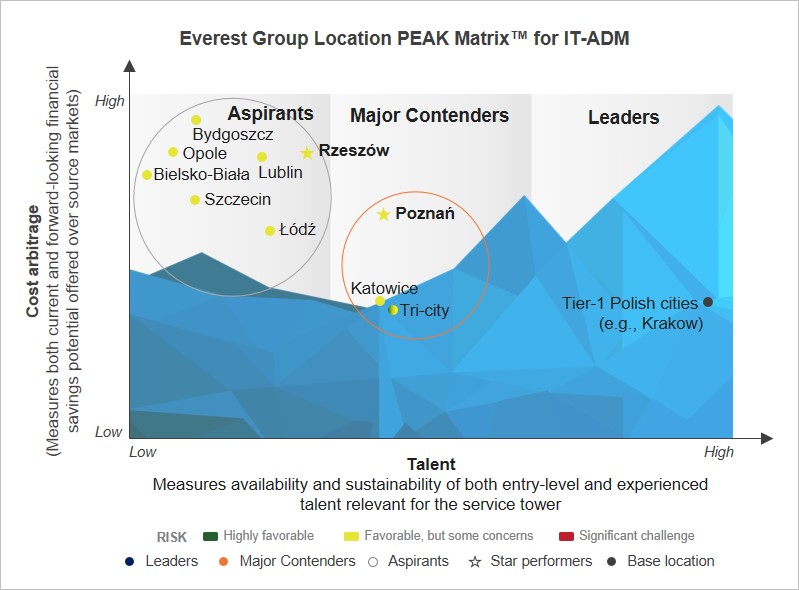 Scope
Services – voice and non-voice Business Process Services (BPS), Information Technology (IT) services, and digital services
Geography – Poland
Global In-house Centers (GICs) and third-party Service Providers (SPs)
Analysis of value proposition of key tier-2/3 cities in Poland: Bielsko-Biała, Bydgoszcz, Katowice, Łódź, Lublin, Opole, Poznań, Rzeszów, Szczecin, and Tri-city. The report also includes an assessment of Krakow as a reference location for the analysis
&nbsp
Content
The report is broadly divided into four sections:
Market overview (including current market size and growth) and trends in the adoption of tier-2/3 cities in Poland for services delivery
Detailed assessment of value proposition (including cost, talent, market activity, skills, and language) offered by tier-2/3 cities in Poland
Key drivers behind the movement of enterprises / service providers to tier-2/3 cities in Poland
Assessment of delivery locations on Everest Group's PEAK MatrixTM to classify them into Leaders, Major Contenders, and Aspirants
Membership(s)
---
Page Count: 59