With the unemployment rates in the United States hitting a 16-year low and the digital revolution impacting the global services delivery, shared services in the United States are going through very interesting times.
In the recent years, there has been a growing interest in the onshore delivery of global services, especially using the shared services model by leading enterprises in the United States. The growing interest in shared services delivery is driven by changes in regulations, evolving geo-political scenario, rise of digital services, and focus on enhancing customer experience by focusing on tenets of context, culture, and proximity.
However, the talent market is becoming increasingly challenging, as multiple enterprises and service providers have accelerated their onshore delivery presence.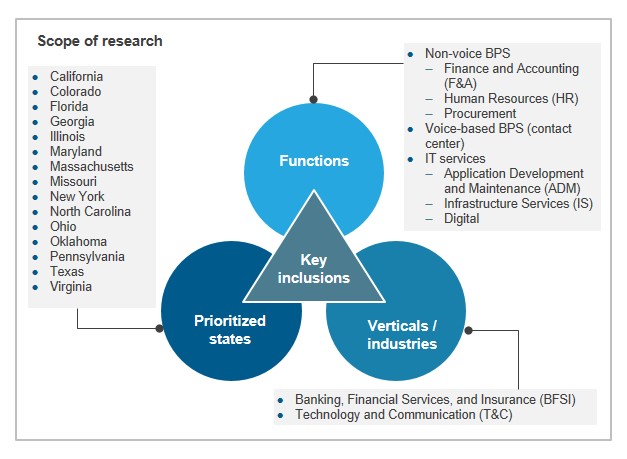 Scope and content
This report provides perspectives on the shared services landscape in select verticals in the United States including:

Landscape of the United States shared services market (details of key delivery locations (states), key verticals supported, etc.)
Industry-level insights into the shared services market in BFSI and Technology & Communication (T&C) verticals including analysis of:

Key delivery locations
Key functions delivered
Talent demand-supply dynamics

Overview of digital delivery landscape in BFSI and T&C verticals as well as the role played by shared services in digital delivery

This report is based on

Everest Group's proprietary onshore shared services database that is updated quarterly with new set-up activity, expansion/contraction of existing shared services, and capability additions
Analysis of talent demand and supply trends based on job postings and activity of job-seeking candidates on various career portals
Ongoing interactions with shared services and parent stakeholders

Subscription(s)