Emergence of Western Europe for Centralized Global Service Delivery to Europe
Over the last few years, Western Europe has gained significant importance as a global/regional delivery geography. GIC growth is largely fueled by increasing number of GIC setups by Europe- / U.S-based firms. Western European locations offer a unique value proposition with availability of skilled-talent, stable business/operating environment, multilingual capabilities, and high maturity for certain services. This report provides a detailed assessment of location options within Western Europe for global service delivery.
This report assesses the key drivers for enterprises/service providers to move to Western Europe and key trends affecting the operationalizing of a delivery center in the geography. It also aims to assist companies in location selection within Western Europe by highlighting the key factors to be considered while selecting locations for service delivery.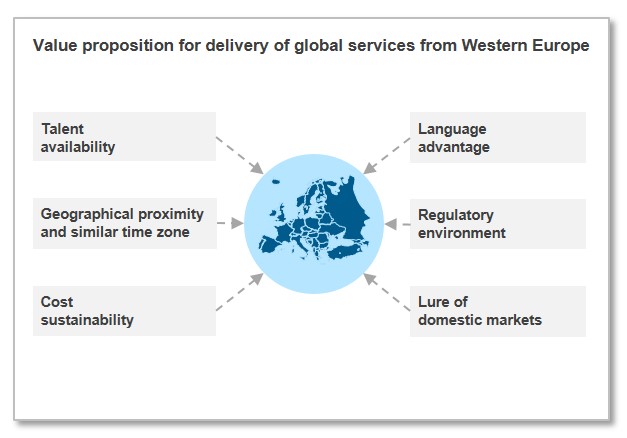 Scope
IT and banking back-office services delivery from in-house centers as well as third-party service providers from locations in Western Europe
Western European locations include United Kingdom, Ireland, Germany, the Netherlands, Belgium, Switzerland, Italy, Spain, Portugal, Austria, Sweden, Norway, Finland, Demark, and France
Assessment of select cities for delivery center setup across the following dimensions – operating cost, entry-level talent availability, experienced resources, skills, and language availability
Key locations included in the assessment are Berlin, Manchester, Dublin, Edinburgh, Glasgow, Cork, Belfast, Madrid, Barcelona, and Lisbon. London (Canary Wharf) is used as a baseline location for comparison of operating cost
Contents
This report shares Everest Group's perspective on Western Europe as a source/delivery geography for global services. Key topics covered are:
Market overview of Western Europe as a buyer geography
Market overview of Western Europe as a delivery geography
Detailed assessment of value proposition (including cost, talent, market activity, skills, and language) of leading Western European locations
Key drivers for move to Western Europe and trends affecting the operationalizing of a delivery center in the geography

Subscription(s)