The Business Process Services (BPS) market is being buffeted by strong winds of change. Multiple digital elements are disrupting the status quo in the supply as well as demand landscape – enterprises are expecting not only mundane cost reduction but also next next-generation benefits from their BPS relationships; and service providers are recognizing that they need to pivot quickly from the traditional labor arbitrage-driven model to a digital-powered one to provide those benefits to their buyers.
One of the most potent digital levers enabling this transformation is Service Delivery Automation (SDA). A spectrum of SDA solutions is being deployed by service providers to help buyers attain certain key benefits – higher speed, improved accuracy, enhanced customer experience, and reduced cost, among others.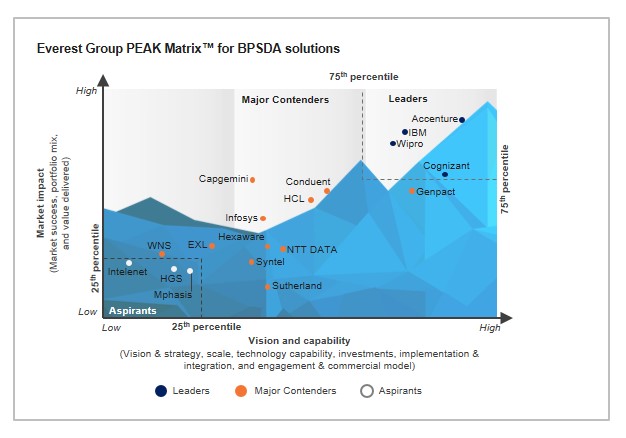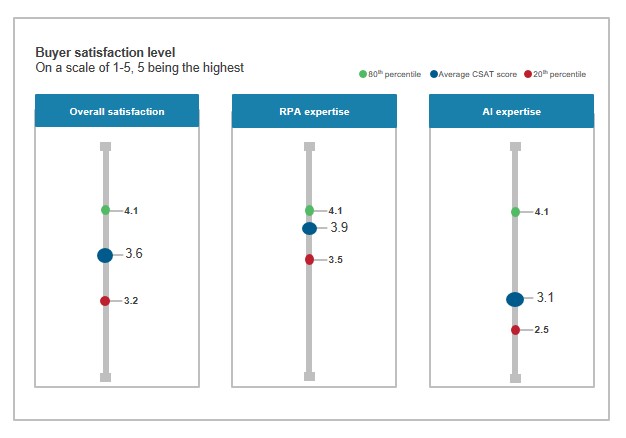 In this research, we present an assessment of 18 leading broad-based BPS providers' SDA market impact and vision & capability using Everest Group's proprietary framework, the PEAK Matrix. We also describe the competitive landscape in the market. Lastly, we provide a commentary on key strengths and areas of improvement for BPS providers, with specific focus on automation.
Scope and Methodology
In this research, we analyze the Business Process Service Delivery Automation (BPSDA) solution provider landscape. We focus on:
Relative positioning of 18 leading broad-based service providers on Everest Group's PEAK Matrix for BPSDA solution (i.e. software + associated implementation services)
Analysis of service providers' market shares
Everest Group's remarks on service providers
Content
This report will assist key stakeholders (enterprises, service providers, and technology providers) understand the dynamics of the BPSDA solution provider landscape. The report provides relative position of service providers on the Everest Group PEAK Matrix for solutions, detailed analysis of the providers' market shares, capability assessment, and Everest Group's remarks on service providers highlighting their key strengths and development areas in relation to their automation capabilities.
Some of the findings in the report are:
Leaders: Accenture, Cognizant, IBM, and Wipro
Major Contenders: Capgemini, Conduent, EXL, Genpact, HCL, Hexaware, Infosys, NTT DATA, Sutherland Global Services, Syntel, and WNS
Aspirants: HGS, Intelenet Global Services, and Mphasis
Accenture and Conduent have the most number of clients with BPSDA deployments by far. They are followed by Capgemini, Cognizant, Genpact, IBM, and Wipro
Accenture and Conduent lead in most geographies. In APAC, in addition to Accenture, Genpact has found good traction
Providers' success differs across BPS segments. Competitive intensity is high in all other high potential areas except contact center, which is heavily dominated by Conduent
Even the reference buyers have average satisfaction with SDA in BPS, though Leaders are doing better. There is significant room for BPS providers to improve their AI expertise
Accenture and Cognizant have the most number of FTEs dedicated to BPSDA. Genpact and Cognizant have the highest share of FTEs in BPSDA product development
Everest Group has a complimentary four-page PEAK Matrix preview document for this service provider landscape report.
Membership(s)
Service Optimization Technologies (SOT)
Banking and Financial Services (BFS) - Business Process Outsourcing (BPO)
Insurance - Business Process Outsourcing (BPO)
Healthcare & Life Sciences Business Process Outsourcing
Finance & Accounting Outsourcing
Human Resources Outsourcing (HRO)