Healthcare Payer BPO – Service Provider Landscape with Services PEAK Matrix™ Assessment 2018
---
by

Manu Aggarwal, Naman Sharma
After a year of new administration taking control of the Oval office, the healthcare payer market continues to face a high degree of uncertainty. Impending decision about the fate of ACA, lack of consensus, and hence, clarity on replacement health law is forcing all the stakeholders to adopt a "wait and watch" approach. Additionally, the government's keenness to curtail its spend on healthcare, especially in Medicaid space, is further adding to uncertainty in the market.
In addition to political uncertainty, several other factors are also redefining how payers and service providers approach this space. Some of the key factors include— rise of consumerism, increase in prominence of alternate payment models, value becoming a key highlight of almost all the plans, membership growth in government plans, and enhanced role of private payers in government-sponsored health plans.
This environment is not a positive one for BPO service providers, as most of the payers will hold off taking any new steps till there is more clarity on the future of the U.S. healthcare market. However, service providers can take this opportunity to focus on developing capabilities and solutions for certain ongoing industry trends such as shift towards value, consumerism, and rise in membership in government plans. Leverage of digital solutions, such as analytics and automation, is slowly becoming a necessity from the payers' standpoint.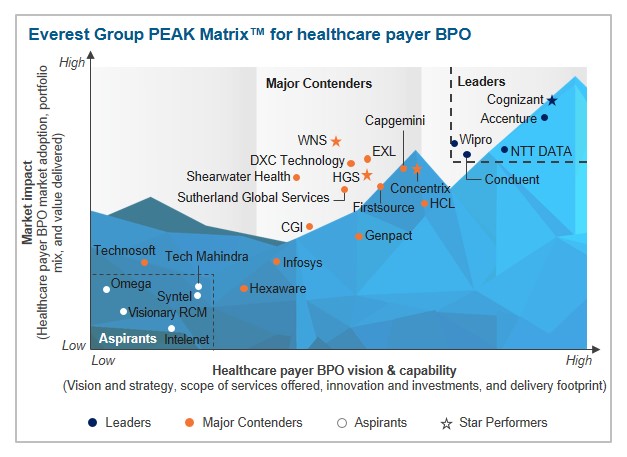 In this study, we analyze the healthcare payer BPO market. We focus on:
Relative positioning of 25 service providers on the Everest Group PEAK Matrix for healthcare payer BPO
Analysis of service providers' market shares
Key strengths and development areas for service providers
Scope of analysis
Third-party healthcare payer BPO contracts; it does not include shared services or Global In-House centers (GICs)
Over 400 active healthcare payer BPO contracts signed as of June 2017
Coverage across 25 healthcare payer BPO service providers: Accenture, Capgemini, CGI, Cognizant, Concentrix, Conduent, DXC Technologies, EXL, Firstsource, Genpact, HCL, Hexaware, HGS, Infosys, Intelenet, NTT DATA, Omega Healthcare, Shearwater Health, Sutherland Global Services, Syntel, Technosoft, Tech Mahindra, Visionary RCM, Wipro, and WNS
Content
This report will assist key stakeholders (healthcare payer institutions, service providers, and technology providers) understand the changing dynamics of the healthcare payer BPO service provider landscape. It will also help them identify Leaders, Major Contenders, and Aspirants for 2017. The report provides detailed analysis of the service provider market share, relative position on the Everest Group PEAK Matrix, capability assessment, and Everest Group's remarks on service providers highlighting their key strengths and development areas.
Some of the findings in the report are:
Accenture, Cognizant, Conduent, NTT DATA, and Wipro emerged as Leaders
Capgemini, CGI, Concentrix, DXC Technology, EXL, Firstsource, Genpact, HCL, Hexaware, HGS, Infosys, Shearwater Health, Sutherland Global Services, Technosoft, and WNS emerged as Major Contenders
Intelenet, Omega Healthcare, Syntel, Tech Mahindra, and Visionary RCM are Aspirants on the PEAK Matrix for healthcare payer BPO
Cognizant, Concentrix, HGS, and WNS have been identified as "Star Performers" on the healthcare payer BPO PEAK Matrix, based on their strong performance during the last 12 months ended June 2017
Accenture, Cognizant, Conduent, and HPE are the top four largest healthcare payer BPO service providers by revenue
Cognizant, Conduent, DXC Technology, NTT DATA, and Shearwater Health account for over 50% of the healthcare payer BPO clients
Accenture, Cognizant, DXC Technology, and HGS have a dominating presence across most healthcare payer BPO processes. Claims management continues to represent the largest share of healthcare payer BPO market and is the most crowded space in terms of the number of players
Everest Group has a complimentary five-page PEAK Matrix preview document for this service provider landscape report.
Membership(s)
---
Page Count: 61