Healthcare Provider BPO – Service Provider Landscape with Services PEAK Matrix™ Assessment 2017
---
by

Ankur Verma, Manu Aggarwal
Rising administrative cost is putting significant pressure on the profitability of healthcare providers. Additionally, the entire healthcare provider industry is also facing headwinds from market shift towards value-based payment models. Both these megatrends have multifold impact on the healthcare provider market and are giving rise to two key phenomena:
Healthcare providers are becoming more open to outsourcing as a solution
Traditional outsourcing model, where onshore specialists such as Athena Health and Conifer Health used to provide end-to-end technology and services support, is giving way to an "onshore-offshore model" where technology support is still provided by the onshore specialists; however, services support is further outsourced to India-based BPO companies giving rise to healthcare provider BPO services market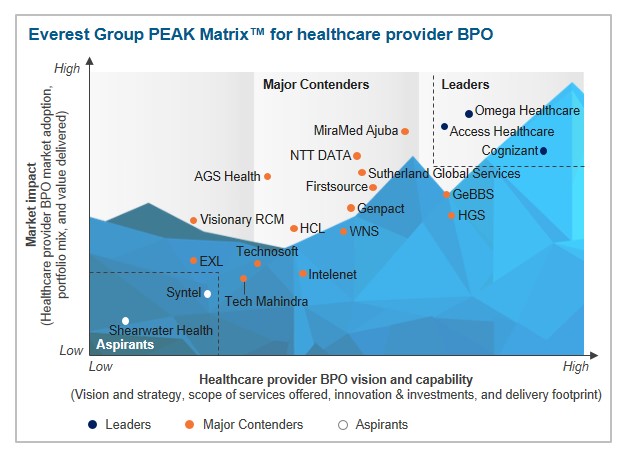 This report provides information on some of the leading service providers in the healthcare provider BPO market along with their areas of expertise.
In this research, we analyze the healthcare provider BPO service provider landscape. We focus on:
Relative positioning of 20 service providers on Everest Group's PEAK Matrix for healthcare provider BPO
Analysis of service providers' market share
Everest Group's analysis of service providers' strengths and areas of improvement
The scope and methodology of this report include:
Over 100 healthcare provider BPO contracts signed as of June 2017
Coverage across 20 healthcare provider BPO service providers: Access Healthcare, AGS Health, Cognizant, EXL, Firstsource (MedAssist), GeBBS, Genpact, HCL, HGS, Intelenet, MiraMed Ajuba, NTT DATA, Omega Healthcare, Shearwater Health, Sutherland Global Services (SGS), Syntel, Tech Mahindra, Technosoft Corporation, Visionary RCM, and WNS Global Services
Content
This report will assist key stakeholders (hospital networks, onshore specialists, BPO service providers, and technology vendors) understand the changing dynamics of the healthcare provider BPO service provider landscape. It will also help them identify Leaders, Major Contenders, and Aspirants for 2017. The report provides detailed analysis of the service provider market share, relative position on the Everest Group PEAK Matrix, capability assessment, and Everest Group's remarks on service providers highlighting their key strengths and development areas.
Some of the findings in the report are:
India-based service providers, such as Access Healthcare and Omega Healthcare, accounted for the majority of the revenue in the provider BPO market
In terms of growth, Access Healthcare, Tech Mahindra, and WNS are growing at a rate faster vis-à-vis market average
Omega Healthcare accounted for the highest share of increase in revenue as well as number of clients during 2016-2017
Financials and network management represents the largest share of healthcare provider BPO market and has the most number of players
Omega Healthcare and Access Healthcare lead the outsourcing market for processes such as diagnostic, treatment, and monitoring, and financials & network management; however, MiraMed Ajuba leads in the case of processes such as care management and patient engagement
The list of top players changes across processes, indicating different focus areas for each service provider; however, all service providers have at least some presence in financials and network management
Everest Group has a complimentary five-page PEAK Matrix preview document for this service provider landscape report.
Membership(s)
---
Page Count: 54