Amidst consistent regulatory uncertainty, falling profit margins, and decreasing in-patient volumes, the demand in the healthcare provider IT market is rebounding with primary focus on value-based care initiatives. More than 50% of provider IT spending by 2025 is expected to be driven by value-based care initiatives. This will be fueled by factors such as investment in patient engagement and compliance & care performance evaluation initiatives. More than 75% of provider organizations have either adopted or are looking to adopt value-based care in the near future, which further reinforces the secular trends driving the next wave of IT investments among healthcare providers.
Demand in the provider IT market has been concentrated in the larger health systems. To truly unpack the current and future state of value-based care driven IT investments, it is essential to evaluate the large health systems in their journey towards adopting value-based care. On one hand, this analysis helps the providers assess their current standing and on the other hand, it helps the service providers to target particular health systems with specific offerings.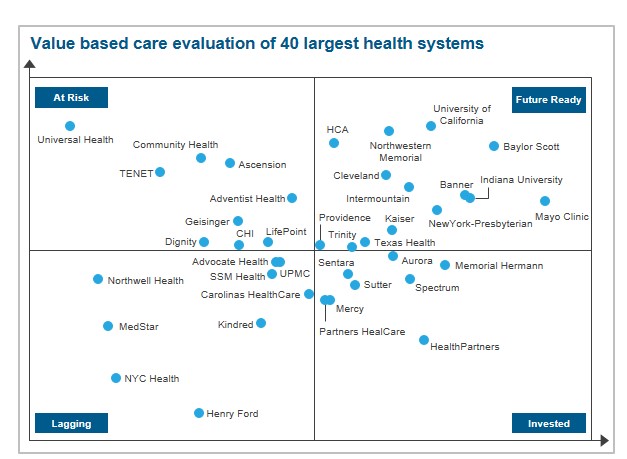 In this annual report, we analyze the current state of adoption of value-based care and evaluate the 40 largest health systems based on their value-based care performance and financial health. The report also provides actionable frameworks for the health systems to accelerate their value-based care initiatives and for the service providers to develop the requisite expertise to support these health systems.
This report is structured across four key sections, covering current state of value-based care, evaluation of 40 largest health systems, and implementation and service capability frameworks for health systems and service providers respectively.
Value-based care: Market trends and current state of adoption

Value-based care driven IT trends
Industry wide state of adoption

Value-based care performance evaluation: Analyzing the 40 largest health systems

Evaluation methodology and details
Analysis of value-based care performance matrix

Implications for providers: Framework for creating a successful value-based care model

Aspects covering people and culture, process improvement, stakeholder engagement and health information and technology infrastructure

Implications for service providers: Service capability framework

Aspects covering the required expertise and service capabilities
Subscription(s)