Healthcare Payer BPO – Service Provider Profile Compendium 2017
The healthcare payer BPO service provider profile compendium provides accurate, comprehensive, and fact-based profile snapshots of 20 service providers in the market. Specifically, the report allows for comparison of the service providers on their areas of strength and development. It helps current and potential buyers of healthcare payer BPO services to assess the service providers on the capabilities that they desire.
Each five-page profile presents a comprehensive picture of a provider's service suite, scale of operations, technology solutions, and delivery locations; along with Everest Group's assessment of the provider. The compendium also sheds light on the global healthcare payer BPO service provider landscape. These 20 service providers include Accenture, Cognizant, NTT DATA, Conduent, HPE, Capgemini, CGI, EXL, Firstsource, Genpact, HCL, Sutherland Global Services, Wipro, Shearwater Health, Hexaware, Infosys, Concentrix, HGS, Syntel, and Intelenet.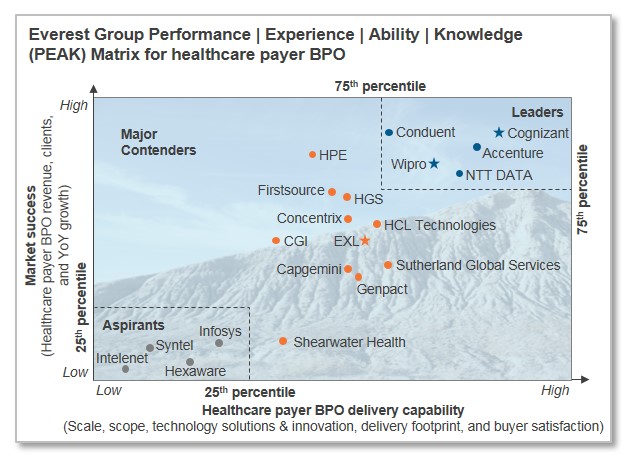 Content
Each service provider profile captures the following healthcare payer BPO-specific details:
Service suite and scale of operations: key leaders, service suite, FTEs, revenue, and recent developments
Delivery locations: city-level detail of key delivery locations across the world
Capabilities and clients: major engagements, revenue split by geography, FTE split by process coverage & location, and number of contracts by buyer size
Technology solutions: brief profiles of key technology solutions
Everest Group assessment: the position of the service provider on the Everest Group PEAK Matrix, market share & delivery capability assessment, and overall remarks on the capabilities of the service provider
Subscription (s)
18 Apr 2017
Market Vista – 2016 Year in Review report gives an overview of the developments that took place in the global services industry in 2016. The report highlights key trends and drivers pertaining to GICs, offshore/nearshore locations, service provider…