As banks gear up to capitalize on the next generation of the digital wave and compete with non-traditional players, they need to align with digital-first operating models, adopt cutting-edge technologies, and foster new digital-savvy culture.
To date most banks have been focusing on curating new customer experiences using front-end digital technologies such as mobile, online, and self-servicing, but now they have realized that they are missing on a potentially larger opportunity to open their core to collaborate with other players in the ecosystem and make the back-office more accessible.
To keep pace with the digital change, banks are disintermediating their front-, mid-, and back-office functions and taking a transformational path to blur the physical & virtual boundaries, and rotate to digital by establishing peer relationships with FinTechs, technology vendors, and service providers.
Accordingly, service providers have stepped up their investments to deliver a holistic front-to-back digital transformation, right from developing digital vision for the bank and mapping customer journey, to moving to open banking architecture. Service providers with products implementation experience, front-office design & experience skills, domain & business consulting expertise, and breadth of solutions across digital technologies are able to demonstrate superior market success and client experience.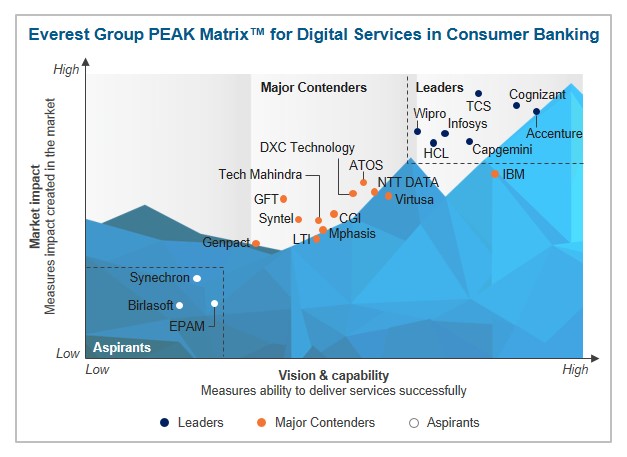 In this research, we present assessment and detailed profiles of 22 digital service providers featured on the digital services in consumer banking PEAK Matrix™. Each service provider profile presents a comprehensive picture of its service focus, key Intellectual Property (IP) / solutions, partnerships/alliances, and other digital & domain-specific investments.
The assessment is based on Everest Group's annual Request for Information (RFI) process for the calendar year 2017, interactions with leading services providers, client reference checks, and analysis of the consumer banking digital services market.
Scope of this report
Services: Digital services
Geography: Global
Subvertical: Consumer banking (includes Business-to-Consumer services)
Service providers: 22 leading IT service providers with a focus on digital technologies
Everest Group has a complimentary five-page PEAK Matrix preview document for this service provider landscape report.
Membership(s)
Banking, Financial Services & Insurance (BFSI) - Information Technology Outsourcing (ITO)