Mortgage BPO stands out as one of the largest submarkets within banking BPO. As regulatory bodies continue to increase their oversight on mortgage activities of banks, the role of BPO has been gaining greater significance in the mortgage landscape. This, coupled with newer entrants in the space, such as small-sized banks, is also causing a spike in the demand for mortgage BPO. Buyers are now looking to service providers to deliver more than just cost savings.
Risk and regulatory compliance solutions to ensure compliance and prevent banks from faltering in the future are increasingly gaining prominence. Service providers need to up their game due to a host of challenges in the market. While the origination volumes have witnessed a decline, the cost of providing origination and servicing has been on the rise. Moreover, customers are increasingly demanding innovative technology solutions for their mortgage needs. With a progressively changing landscape, service providers will be required to make the right set of investments to stay competitive. At the same time, buyers need to identify the providers who clearly understand their unique business challenges and can help mitigate them.
The past year witnessed the focus of most service providers shifting from core capital markets offerings to RPA (Robotic Process Automation) and cognitive automation. While some of the leading providers tried to tap into the automation market by developing their in-house automation capabilities and investing in next-generation cognitive automation technology, others tried to make the most of the RPA opportunity by partnering/collaborating with RPA technology providers.
Scope and methodology
In this research, we analyze the global mortgage BPO service provider landscape. We focus on:
Relative positioning of 16 service providers on Everest Group's PEAK Matrix for mortgage BPO
Analysis of service providers' market share
Service provider comments
Content
This report examines the global mortgage BPO market and its service provider landscape. It provides detailed analysis of the capabilities and market performance of service providers and their relative position on the Everest Group PEAK Matrix. It will assist key stakeholders (banks, lenders, service providers, and technology providers) understand the current state of the mortgage BPO service provider landscape.
Some of the findings in this report are:
TCS and Accenture emerged as Leaders
Major Contenders include HCL, Genpact, Infosys, Firstsource, Cognizant, Digital Risk, IBM, Sutherland, Wipro, WNS, and Capgemini
EXL, Intelenet, and DXC Technology are Aspirants on the PEAK Matrix for mortgage BPO
Cognizant, HCL, and TCS are the "Star Performers" on the mortgage BPO PEAK Matrix for 2017, based on their strong performance during 2016-2017
Accenture, TCS, and Firstsource together account for over 55% of the total growth (2016-2017) of the mortgage BPO market by revenue
North America remains the largest buyer geography for mortgage BPO by revenue and continues to grow at a stable rate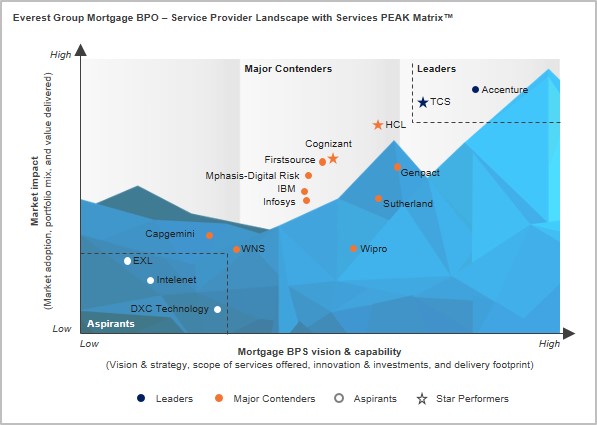 Everest Group has a complimentary four-page PEAK Matrix preview document for this service provider landscape report.
Subscription(s)
Banking and Financial Services (BFS) - Business Process Outsourcing (BPO)