Life and Pensions Insurance BPO – Service Provider Landscape with PEAK Matrix™ Assessment 2017
---
The global L&P insurance BPO market continues to show steady growth, both in terms of revenue and FTE deployment. The market is witnessing changes and some of the observed trends are –
Customers' expectations are changing and demand for omnichannel customer experience is rising
Buyers are looking for end-to-end partnerships for faster time-to-market and enhanced customer service
There are constant regulatory shifts and thus, services such as regulatory reporting and risk management are more in demand
Outsourcing is increasingly being viewed not only as a cost-saving opportunity, but also as a source of business transformation
The market is seeing an increasing emphasis on more complex and judgment-intensive work such as analytics, risk management, actuarial, and regulatory reporting. Robotic Process Automation (RPA) has raised the potential for cost savings and efficiency achievable with BPO, and is steadily gaining traction in the industry. This gives service providers the opportunity to deliver greater benefits to their clients and differentiate themselves from the competition. Innovation is also being seen in pricing, with traditional pricing models, such as FTE-based and fixed-fee models, being replaced by outcome-based pricing models. L&P insurance BPO adoption remains concentrated in North America and the United Kingdom, which together account for more than 90% of the revenue. While the latter leads the market and accounts for nearly three-fifths of the global revenue, market growth is primarily being driven by North American buyers. Though Asia Pacific and Eastern Europe have been showing traction, these markets are yet to attain the size to drive market growth.
Scope and Methodology
In this research, we analyze the global L&P insurance BPO service provider landscape. We focus on:
Relative positioning of 17 service providers on Everest Group's PEAK Matrix for L&P insurance BPO
Service provider market success
Service provider capability assessment across key dimensions
Comments about service providers
Content
This report examines the global L&P insurance BPO market and its service provider landscape. It provides detailed analysis of the capabilities and market performance of service providers and their relative position on the Everest Group PEAK Matrix and will assist key stakeholders (insurance providers, service providers, and technology providers) understand the current state of the L&P insurance BPO service provider landscape.
L&P insurance BPO PEAK Matrix 2017 positioning is as follows:

Leaders: Cognizant, DXC, EXL, SE2, and Tata Consultancy Services
Major Contenders: Accenture, Capgemini, Capita, Concentrix, Genpact, Infosys, NTT Data, and WNS
Aspirants: Intelenet, NIIT Technologies, Syntel, and Tech Mahindra
EXL, Genpact, SE2, and WNS are the "Star Performers" on the L&P insurance BPO Everest Group PEAK Matrix for 2017

Market shares of 17 service providers by

Revenue
Geography (signing region)
Processes within L&P insurance BPO
Buyer size

Strengths and areas of improvement for 17 service providers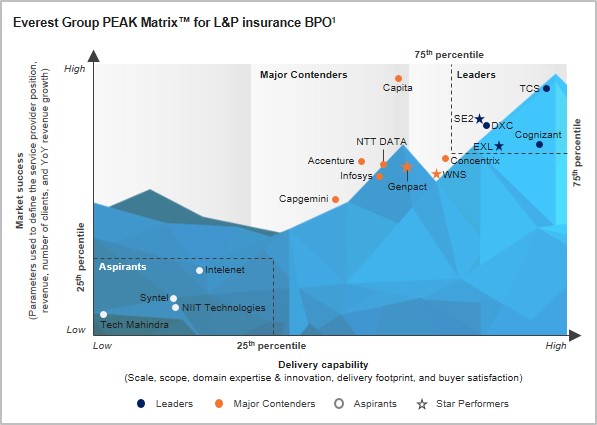 Membership(s)
---
Page Count: 41