Uncertainty in the macroeconomic environment, changing regulatory landscape, sluggish growth, and threat from next-generation financial technology firms (FinTechs) are the key challenges being faced by capital markets enterprises. These challenges have forced the enterprises to revisit their business model, redefine the way they leverage technology, and interact with their customers.
Capital markets enterprises worldwide are exploring/experimenting with the latest technologies, such as blockchain, artificial intelligence, cloud, and robo-advisory to offset some of the above-mentioned challenges and simultaneously achieve desired business outcomes.
In a bid to drive innovation and define regulatory standards for emerging technologies, capital markets ecosystem players (capital markets enterprises, service providers, technology product vendors, FinTechs, RegTechs, regulators & governing bodies, and consortiums) are actively forming partnerships and alliances.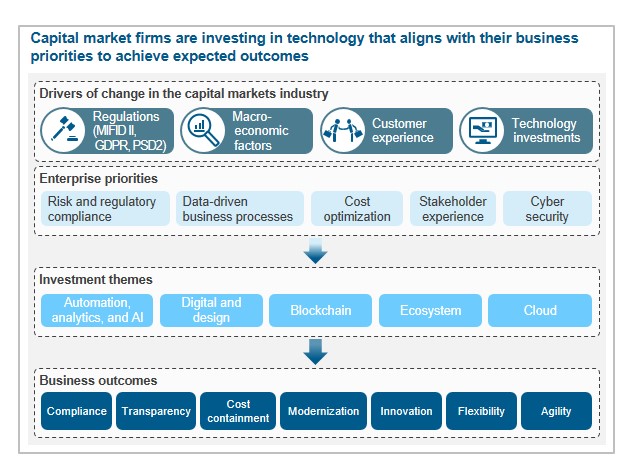 In this report, we look at the global trends in the capital markets industry and their implication for application services outsourcing. We focus on:
Business priorities of capital markets firms and key investment themes
Market trends and activity for large AO relationships in capital markets
Implications for enterprises and service providers
Scope of this report
Industry: Capital markets
Services: Large (TCV > US$25 million), multi-year (>three years), and annuity-based application outsourcing
Geography: Global
Sourcing model: Third-party AO transactions; excludes shared services or Global In-house Centers (GICs)
Subscription(s)
Banking, Financial Services & Insurance (BFSI) - Information Technology Outsourcing (ITO)