Analytics Business Process Services (BPS) – Service Provider Landscape with PEAK Matrix™ Assessment 2017
---
by

Sharang Sharma, Vishal Gupta
Analytics' acceptance as a powerful tool for enterprises to achieve targeted business outcomes and create value is creating significant demand for advanced analytics. However, it is also giving rise to expectations of basic analytics (reporting, in specific) to be a part of standard BPO contacts. Advanced analytics is pushing service providers to develop both domain expertise as well as consultative approach to engagements. Service providers can no longer be complacent and need to build end-to-end capabilities from dashboarding to prescriptive analytics to stay relevant in this market. To this end, they have already started investing in analytics capabilities by either building them in-house or going the acquisition route. As emerging areas, such as automation, self-service, IoT, cognitive, and machine learning become the norm, analytics will be the key engine driving these new age solutions and early movers are sure to benefit.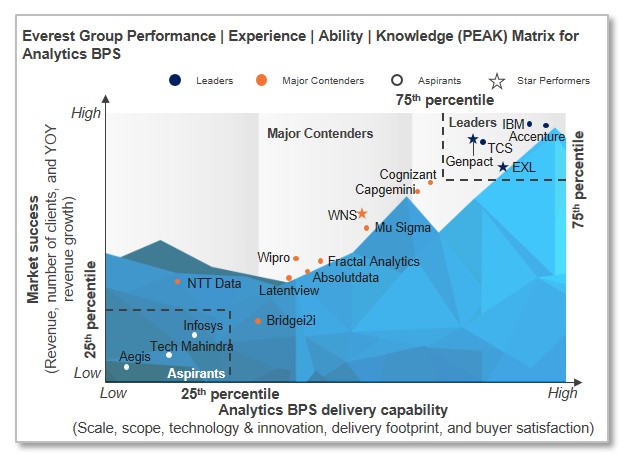 This study assesses the analytics business process capabilities of different service providers (legacy BPO providers and analytics specialists) and evaluates their positioning on the Everest Group PEAK Matrix.
In this research, we focus on different aspects of the analytics BPS market:
Relative positioning of 18 service providers on the Everest Group PEAK Matrix for analytics BPS
Analysis of service providers' market shares
Key strengths and development areas for service providers
Scope of analysis
Analytics BPS offered by either BPO providers or analytics-focused specialists. It excludes pure IT services implementation of an analytics solution
Coverage across all major industries and functional areas
Coverage across 18 analytics BPS service providers, including Absolutdata, Accenture, Aegis, Bridgei2i, Capgemini, Cognizant, EXL, Fractal Analytics, Genpact, IBM, Infosys, Latentview, Mu Sigma, NTT Data, TCS, Tech Mahindra, Wipro, and WNS
Content
This report provides insights into the global analytics business process services (BPS) market and examines the service provider landscape and its impact on the market. It focuses on service provider position & growth in the market, changing market dynamics & emerging service provider trends, and assessment of service provider delivery capabilities.
Some of the findings in the report are:
Everest Group classifies 18 analytics BPS service providers on Everest Group's proprietary PEAK Matrix framework into:

Leaders: Accenture, EXL, Genpact, IBM, and TCS
Major Contenders: Absolutdata, Bridgei2i, Capgemini, Cognizant, Fractal Analytics, Latentview, Mu Sigma, NTT Data, Wipro, and WNS
Aspirants: Aegis, Infosys, and Tech Mahindra

EXL, Genpact, and WNS have been identified as Star Performers on the Analytics BPS PEAK Matrix
Accenture, Genpact, IBM, and TCS are the leading analytics BPS service providers by revenue and showed a strong foothold across most geographies & industries
Given the large market size and appreciable growth rate, a lot of service providers tend to focus on the North American market over other geographies, which has resulted in a very competitive service provider landscape
Everest Group has a complimentary four-page PEAK Matrix preview document for this service provider landscape report.
Membership(s)
Banking and Financial Services (BFS) - Business Process Outsourcing (BPO)
Finance & Accounting Outsourcing
Healthcare & Life Sciences Business Process Outsourcing
Human Resources Outsourcing (HRO)
Insurance - Business Process Outsourcing (BPO)
---
Page Count: 48
31 Mar 2017
The global sourcing market continued to evolve and grow rapidly in 2016 to cross US$175 billion. While buyers leveraged different sourcing models as per their objectives and requirements, the GIC model continued to be an integral component of this…