Finance & Accounting Outsourcing (FAO) – Service Provider Landscape with PEAK Matrix™ Assessment 2017
The global multi-process FAO market witnessed a robust growth of 9-10% in 2016. The demand for FAO services remained strong from both the traditional markets of North America and Continental Europe, as well as from the emerging Asia Pacific (APAC) and Latin America (LATAM) geographies. The service provider landscape witnessed changes in terms of mergers & acquisitions and spin-offs, resulting in capability enhancements for some of the players. The increased focus of enterprises on their "core operations", along with the "as-a-service" modular offerings of providers, are some of the key drivers of FAO market growth, primarily in the SMB and mid-market segments. Enterprises are much more comfortable with outsourcing process scope beyond the traditional labor arbitrage activities to include analytics and Financial Planning & Analysis (FP&A) in the deal scope. Providing end-to-end transformative solutions, combined with domain and industry expertise, and developing next-generation innovative offerings, such as around Blockchain and AI-based solutions, are some of the key means through which providers are creating a differentiation in the market.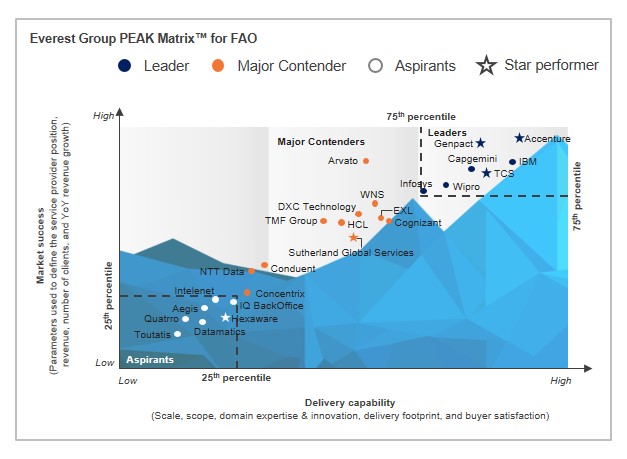 In this research, we analyze the global FAO service provider landscape in 2016. We focus on:
2017 FAO PEAK Matrix and Star Performers
Service provider delivery capability assessment
Everest Group's analysis of service providers
The scope and methodology of this report includes:
Third-party multi-process FAO deals with a minimum of two F&A processes, over US$1 million in ACV, and a minimum contract term of three years
Over 1,150 multi-process FAO deals signed as of 2016
Coverage across 25 FAO service providers with multi-process capability including Accenture, Aegis, Arvato, Capgemini, Cognizant, Concentrix, Conduent, DXC Technology, Datamatics, EXL, Genpact, HCL, Hexaware, IBM, Infosys, Intelenet, IQ BackOffice, NTT Data, Quatrro, Sutherland Global Services, TCS, TMF Group, Toutatis, Wipro, and WNS
Everest Group has a complimentary four-page PEAK Matrix preview document for this service provider landscape report.
Subscription(s)