Contact Center Outsourcing (CCO) – Service Provider Landscape with PEAK Matrix™ Assessment 2017
---
by

Sharang Sharma, Skand Bhargava
The global CCO market grew at ~3% to reach US$78-80 billion in 2016. The year 2016 continued to witness the move toward digitalization, which has had a profound impact on the buyer requirements. The last 12-18 months have witnessed numerous instances of mergers and acquisitions across the CCO landscape, with service providers focusing on strengthening delivery capabilities beyond just scale enhancement, and concentrating on driving differentiated offerings in the market. This has also led to changes in the solution characteristics that we witness in the market – shift towards balanced shoring, increased adoption of multi-channel solutions, increased emphasis on value-added services, and increased investments in analytics, automation, and next-generation solutions such as Robotic Process Automation (RPA) and cognitive solutions.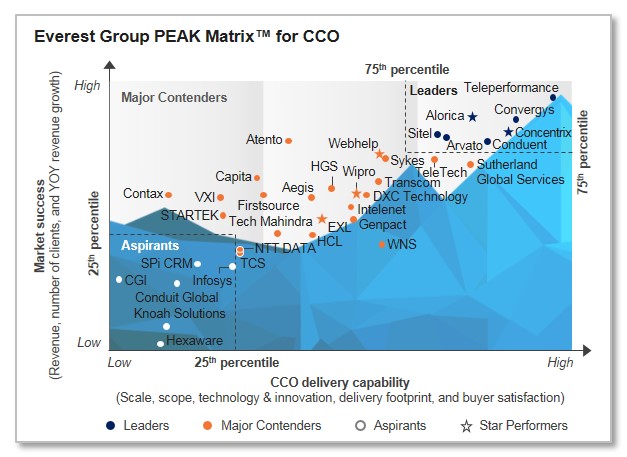 In this research, we analyze the CCO market across various dimensions:
CCO PEAK Matrix 2017
Key insights on PEAK Matrix dimensions
Strengths and areas of improvements for individual service providers
Scope of analysis
More than 2,500 active CCO deals (as of December 2016) tracked annually by Everest Group
Coverage across 35+ CCO service providers including Aegis, Alorica, Atento, Arvato, Capita, CGI, Concentrix, Conduent, Conduit Global, Contax, Convergys, DXC Technology, EXL, Firstsource, Genpact, HCL, Hexaware, HGS, Infosys, Intelenet, Knoah Solutions, NTT DATA, Sitel, SPi CRM, STARTEK, Sutherland Global Services, Sykes, TCS, Tech Mahindra, Teleperformance, TeleTech, Transcom, VXI, Webhelp, Wipro, and WNS
Content
This report examines the global Contact Center Outsourcing (CCO) market and evaluates the positioning of service providers on the Everest Group PEAK Matrix. It provides insights on the changing market dynamics, service provider delivery capabilities, and Everest Group's remarks on service providers' key strengths and areas of improvement.
Some of the findings in this report are:
Everest Group classifies 35+ CCO service providers on the Everest Group Performance | Experience | Ability | Knowledge (PEAK) Matrix into three categories of Leaders, Major Contenders, and Aspirants. The PEAK Matrix is a framework to assess the relative market success and overall capability of service providers

Leaders: Alorica, Arvato, Concentrix, Convergys, Conduent, Sitel, and Teleperformance
Major Contenders: Aegis, Atento, Capita, Contax, DXC Technology, EXL, Firstsource, Genpact, HCL, HGS, Intelenet, NTT DATA, STARTEK, Sutherland Global Services, Sykes, TCS, Tech Mahindra, TeleTech, Transcom, VXI, Webhelp, Wipro, and WNS
Aspirants: CGI, Conduit Global, Hexaware, Infosys, Knoah Solutions, and SPi CRM

Based on the relative YOY movement of each service provider, Everest Group identified five service providers as the "2017 CCO Market Star Performers" – Alorica, Concentrix, EXL, Webhelp, and Wipro
The service provider landscape varies significantly across geographies and industries. Teleperformance continues to dominate the CCO market across all major geographies and key industries
Service providers are increasing vertical-oriented investments to deepen their domain capabilities and establish clear differentiation in the market
Also, peer organizations are investing in expansion of non-voice channels and value-added services to challenge the Leaders
Although buyers commend Leaders for their efficient implementation capabilities, they expect them to be more proactive and innovative to cater to the changing dynamics within the CCO space
Everest Group has a complimentary five-page PEAK Matrix preview document for this service provider landscape report.
Membership(s)
---
Page Count: 82