Consumerism, the rise of digital, margin pressures, regulatory uncertainty, and value-based care are increasingly pushing healthcare payers to rethink their business models. Many payers – especially larger ones with multi-state presence – are strengthening their market positions by controlling as many pieces in the healthcare ecosystem as possible, as seen in the big-ticket acquisitions in recent years.
With M&A activity now subsiding, the next logical step for payers to deal with growth/competitive challenges is to invest in differentiating their capabilities in terms of smoother member engagement, streamlined network management, transparent claims administration, and meaningful care support.
To achieve their objectives in this regard, third-party support is vital, and, hence, it becomes extremely important for healthcare payers to identify the right service providers to transform and differentiate themselves.
This report studies leading healthcare payer BPO service providers and compares their capabilities in detail.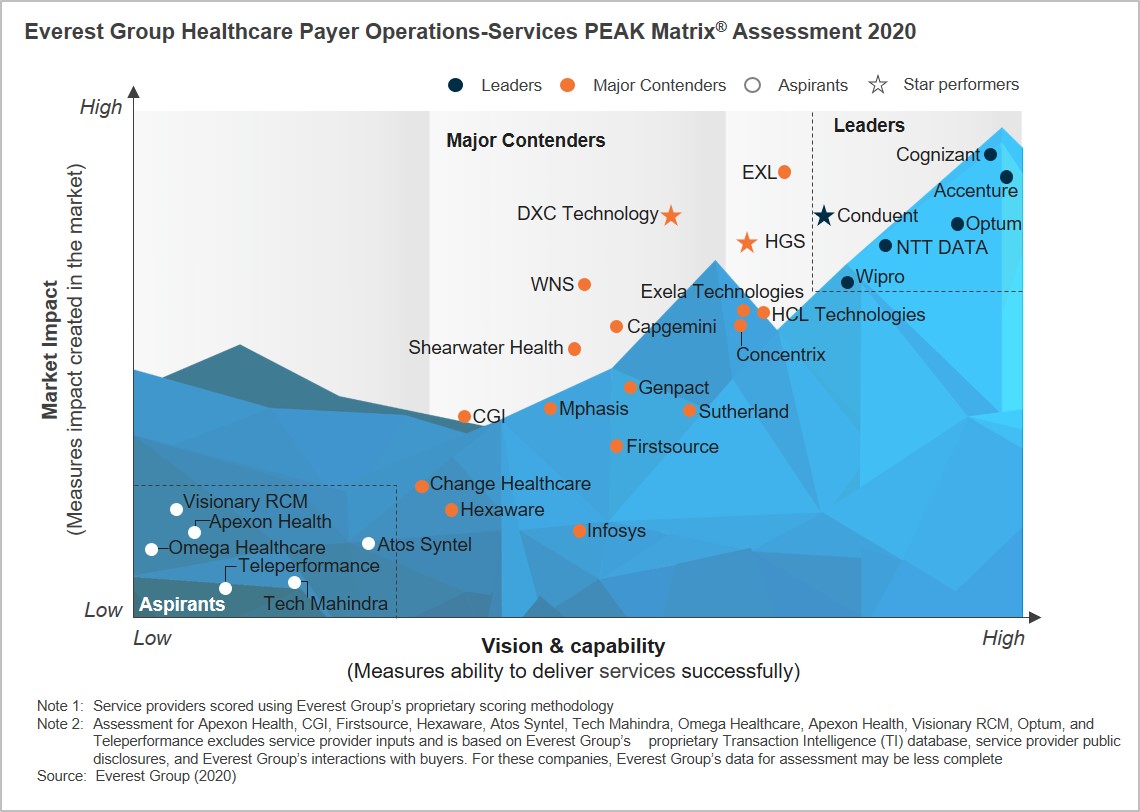 This report is structured across four key sections:
Scope
In this report, we have studied the following healthcare payer BPO service providers:
Accenture, Apexon Health, Atos Syntel, Capgemini, CGI, Change Healthcare, Cognizant, Concentrix, Conduent, DXC Technology, Exela Technologies, EXL, Firstsource, Genpact, HCL, Hexaware, HGS, Infosys, Mphasis, NTT DATA, Omega Healthcare, Optum, Shearwater Health, Sutherland, Tech Mahindra, Teleperformance, Visionary RCM, Wipro, and WNS
Contents
We study the following in this report:
Relative positioning of the 29 service providers on Everest Group's PEAK Matrix® for Healthcare Payer Operations
Analysis of the service providers' market share
Everest Group's analysis of service provider strengths and areas of improvement
Membership