Globally, ERP modernization is part of almost half of all digital transformation projects initiatives. Increased Total Cost of Ownership (TCO), enterprise agility, and scalability are driving enterprises to switch from traditional on-premise ERP platforms to cloud ERP. However, organizations face multiple challenges in adopting cloud ERP, including legacy ERP burden, cloud unreadiness, business disruption risk, lack of sufficient evidence in the market, frequency of updates, and limited functionality.
Enterprises can achieve significant business impact if they follow the five key steps to successfully adopt cloud ERP – prioritize change management early, take a process-centric approach, adopt the right-fit product and deployment options, evaluate cloud readiness, and build a Proof of Concept (PoC) to identify the challenges of scaled adoption.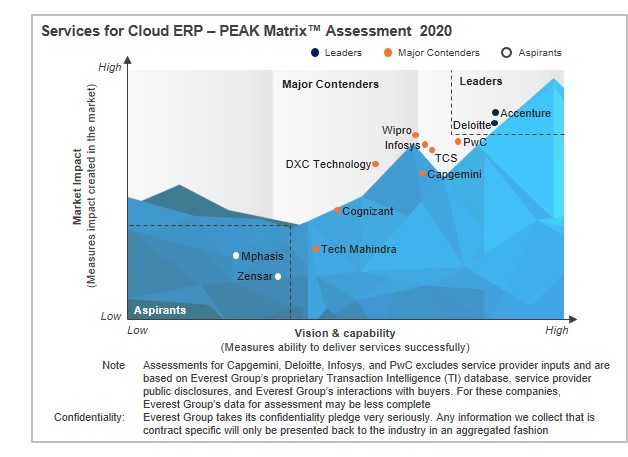 In this research, we present an assessment and detailed profiles of 12 leading service providers featured on the Services for Cloud ERP PEAK Matrix. Each profile provides a comprehensive picture of the service provider's service focus, key partnerships, domain investments, and relevant case studies. The assessment is based on Everest Group's annual RFI process for calendar year 2019, interactions with leading services for cloud ERP providers, client reference checks, and an analysis of the cloud ERP market.
Contents
This report covers the following topics:
Services for cloud ERP market update
Imperatives for enterprises and service providers
PEAK Matrix assessment of cloud ERP service providers
Scope
We feature the profiles of 12 cloud ERP service providers: Accenture, Capgemini, Cognizant, Deloitte, DXC Technology, Infosys, Mphasis, PwC, TCS, Tech Mahindra, Wipro, and Zensar.
Membership(s)