The life sciences industry is plagued by issues such as high time-to-market for drugs and high costs of drug development. Enterprises have prioritized digital technologies in their corporate strategies to optimize processes, reduce costs, and positively impact the bottom line. Digital adoption is already influencing all aspects of the life sciences value chain, right from accelerating the drug discovery process to improving sales & marketing of drugs. In fact, with the proliferation of wearables and IoT-based devices, these technologies are also influencing how patients respond to clinical trials and drug consumption.
To help enterprises in their transformation journeys, service providers have ramped up their digital technology skills and made a slew of investments in the domain. AI solutions have experienced significant uptake to improve the drug discovery process, automate pharmacovigilance case processing, and improve patient recruitment in clinical trials. Service providers are also entering into partnerships and acquisitions to provide enterprises with domain-focused solutions. This is driving the need for research and market intelligence on demand and supply trends in life sciences digital services.
Everest Group's Life Sciences ITS research program addresses this need by analyzing outsourcing trends and service provider capabilities in digital services for the life sciences vertical. In this research, we present an assessment and detailed profiles of 23 digital service providers for the life sciences industry, featured in our Life Sciences Digital Services PEAK Matrix™. Our assessment is based on Everest Group's annual RFI process for the calendar year 2019, interactions with leading digital service providers, client reference checks, and an in-depth analysis of the digital services market.
Service providers covered: Accenture, Atos, Capgemini, CGI, Cognizant, Deloitte, DXC Technology, EPAM, Fujitsu, Genpact, HCL Technologies, Hexaware, IBM, Indegene, Infosys, LTI, NNIT, NTT DATA, TCS, Tech Mahindra, Unisys, Virtusa, and Wipro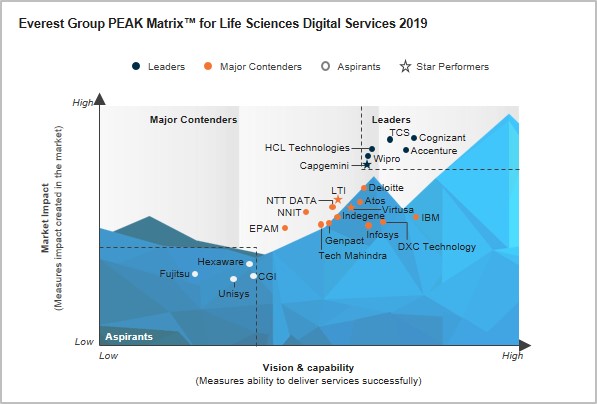 Scope
Industry: life sciences (pharmaceuticals, medical devices, biotechnology, and other life sciences)
Services: digital services
Geography: global
Sourcing model: third-party ITS transactions; excludes shared services or Global In-house Centers (GICs)
Contents
This report comprises an executive summary and three sections, each containing insights about the life sciences digital service providers' landscape, as outlined below:
Summary of key messages
Life sciences digital services trends
PEAK Matrix assessment of life sciences digital service providers
Profiles of 23 life sciences digital service providers
Membership(s)