Healthcare challenges, such as changing business and care delivery models to support patient-centricity and consumerism, growing competition from both within and outside the industry, and increasing regulatory pressures, are leading to increased investments in data and technology by enterprises. Point-to-point upgrades, coupled with high technical debt levels, have increased security vulnerabilities to a large extent. The healthcare industry has been slow to respond to cyber threats and has lagged behind other industries when it comes to IT security investments, making healthcare a lucrative target for hackers. As a result, the past few years have seen some of the biggest attacks on healthcare enterprises resulting in theft of millions of patient records.
As a result, senior executives in healthcare enterprises acknowledge the seriousness of the threats (such as loss of goodwill, large penalties by regulators for data breaches, and partial or complete shutdown of operations resulting in lost revenues) that cyberattacks pose to their business. Security is considered not only an IT initiative, but also a business imperative.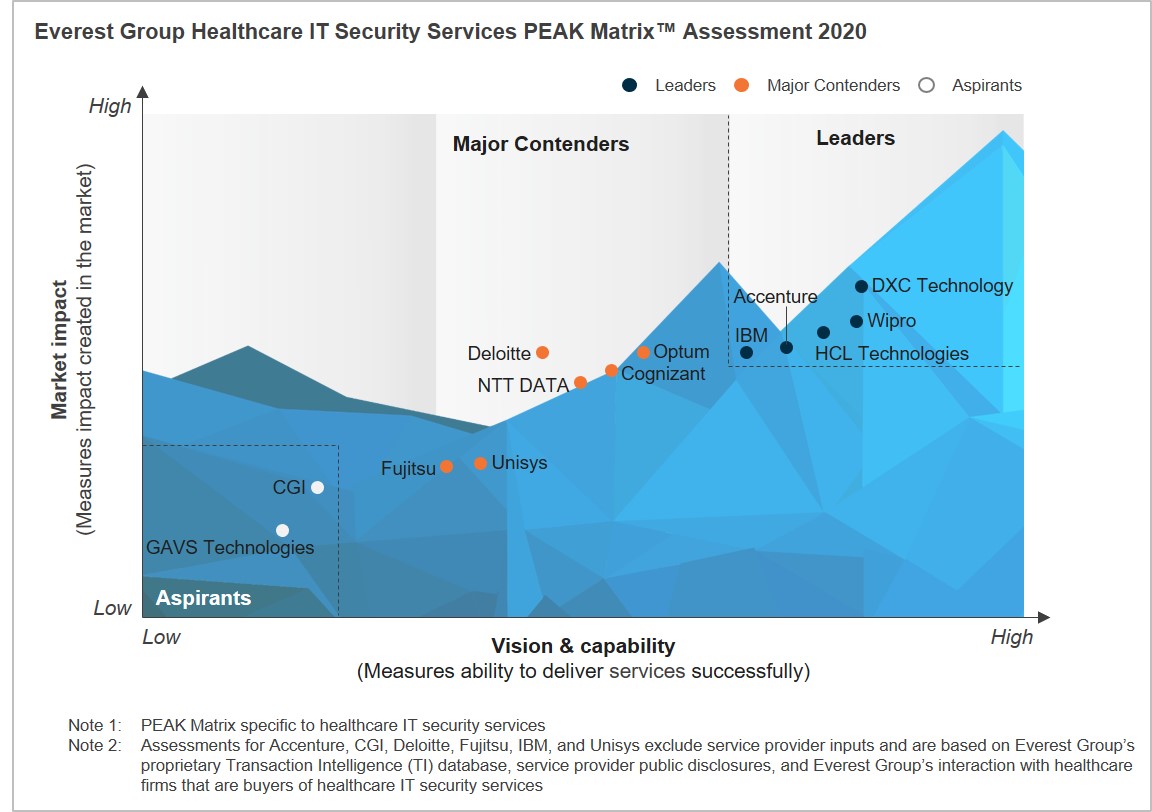 In this research, we present fact-based trends impacting the IT security services market, along with assessment and detailed profiles of 13 healthcare IT service providers featured on the healthcare IT security services PEAK Matrix. Each service provider profile gives a comprehensive picture of their security services vision, services capabilities, scale of operations, key solutions, and partnerships. The assessment is based on Everest Group's annual RFI process conducted over Q2 and Q3 2019, interactions with leading healthcare IT security service providers, and analysis of the healthcare IT security services marketplace.
Service providers covered: Accenture, CGI, Cognizant, Deloitte, DXC Technology, Fujitsu, GAVS Technologies, HCL Technologies, IBM, NTT DATA, Optum, Unisys, and Wipro
Scope
Industry: Healthcare payers and providers
Services: Healthcare IT security services digital services
Geography: Global
Service providers: 13 leading healthcare IT security service providers
Contents
This report comprises an executive summary and three sections, each containing insights about the healthcare IT security service providers' landscape, as outlined below:
Summary of key messages
Healthcare IT security services market trends
PEAK Matrix assessment of healthcare IT security service providers
Profiles of 13 healthcare security service providers
Membership(s)