Advanced Analytics & Insights – Service Provider Landscape with Services PEAK Matrix™ Assessment 2020
---
by

Ashwin Venkatesan, Vishal Gupta, Deepthi Mudunooru, Arpita Dwivedi, Ankit Gupta, AS Yamohiadeen
Analytics adoption across enterprises of all sizes is soaring with "data-to-decisions" journey as a strategic focus area. Data is emerging as a key enterprise asset and businesses are asking for value out of the terabytes of data residing in their IT landscape. In this regard, service providers are increasingly investing in developing solutions that understand the domain and context to provide actionable insights, with a significant associated dollar value. They have also upped investments in sensory technologies including computer vision (image data), IoT sensors (device data), and NLP (speech data) to deliver advanced insights. Talent emerged as another key capability to deliver AI and data science-backed solutions. Considering talent scarcity in these emerging areas, both IT/BPO service providers, as well as pure-play analytics firms, have invested in in-house talent building initiatives, certifications, and academic collaborations.
In this research, we analyze the global advanced analytics & insights service provider landscape. We focus on:
Advanced Analytics & Insights Services PEAK Matrix™ 2020
Comprehensive view of geography, industry, and functional focus, as well as buyer size, key intellectual property (IP), and partnerships and investments by each service provider
Everest Group's remarks on strengths and areas of improvements of individual service providers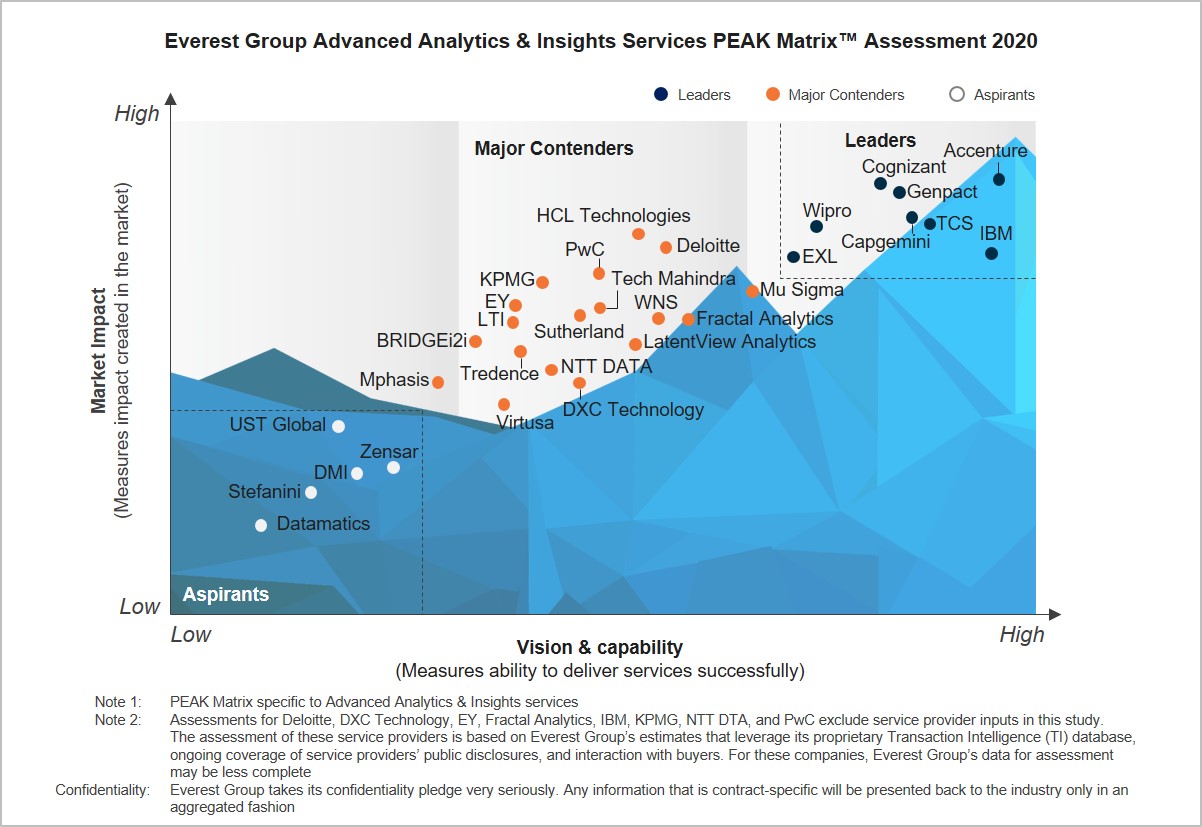 The scope of analysis includes:
Services across advanced analytics & insights value chain – strategy & consulting, BI & visualization, and advanced analytics
Coverage across all major industries and functional areas
Coverage across 31 advanced analytics & insights service providers, namely Accenture, BRIDGEi2i, Capgemini, Cognizant, Datamatics, Deloitte, DMI, DXC Technology, EXL, EY, Fractal Analytics, Genpact, HCL, IBM, KPMG, LatentView Analytics, LTI, Mphasis, Mu Sigma, NTT DATA, PwC, Stefanini, Sutherland, TCS, Tech Mahindra, Tredence, UST Global, Virtusa, Wipro, WNS, and Zensar
Content
This report examines the global advanced analytics & insights market and evaluates the positioning of service providers on the Everest Group PEAK Matrix™. It provides insights into service provider delivery capabilities and Everest Group's remarks on service providers' key strengths and areas of improvement.
Some of the findings in this report are:
Everest Group classifies 31 advanced analytics & insights service providers on the Everest Group PEAK Matrix™ into three categories of Leaders, Major Contenders, and Aspirants
The 2020 Advanced Analytics & Insights Services PEAK Matrix™ positioning is as follows:

Leaders: Accenture, Capgemini, Cognizant, EXL, Genpact, IBM, TCS, and Wipro
Major Contenders: BRIDGEi2i, Deloitte, DXC Technology, EY, Fractal Analytics, HCL Technologies, KPMG, LatentView Analytics, LTI, Mphasis, Mu Sigma, NTT DATA, PwC, Sutherland, Tech Mahindra, Tredence, Virtusa, and WNS
Aspirants: Datamatics, DMI, Stefanini, UST Global, and Zensar
Membership(s)
---
Page Count: 85