Networks has traditionally been the most neglected component within the IT infrastructure. Digital transformation within enterprises has so far focused on the compute aspect, with cloud being the main driver. However, enterprises now realize that without network transformation, optimum benefits of digital transformation cannot be realized. This has changed enterprise expectations from networks. Enterprises have now begun leveraging network services to achieve the desired business oriented outcomes. They are engaging service providers for network transformation across datacenter, WAN, and branch. Enterprises need to ensure that they develop the right business case for network transformation to derive the maximum benefits. Service providers need to think beyond traditional networks and should align the networks as a digital transformation enabler.
In this research, we present an assessment and detailed profiles of 13 network service providers featured on the network services PEAK Matrix™. Each service provider profile offers a comprehensive picture of its service focus, key IP / solutions, domain investments, and case studies. The assessment is based on Everest Group's annual RFI process for calendar year 2019, interactions with leading network service providers, client reference checks, and an ongoing analysis of the network services market.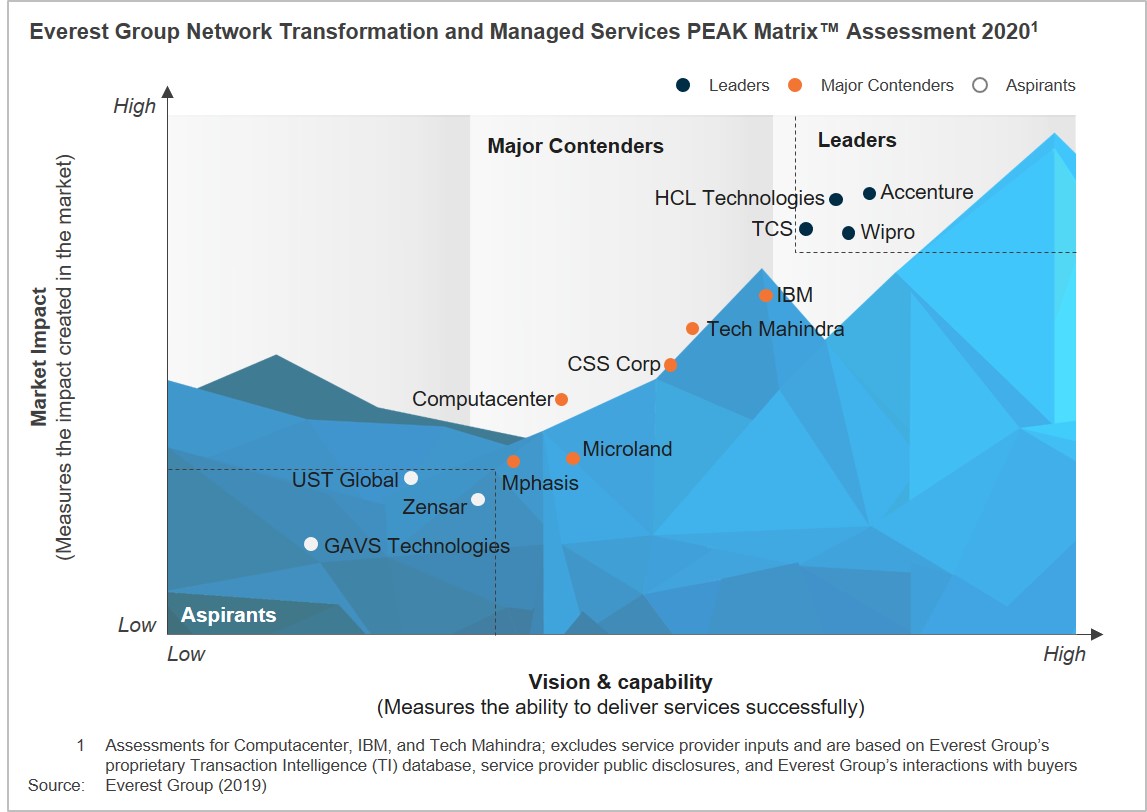 SCOPE OF THE ANALYSIS
This research provides an assessment of the IT service providers / system integrators that are associated with network services.
The report covers the following IT service providers: Accenture, Computacenter, CSS Corp, GAVS Technologies, HCL Technologies, IBM, Microland, Mphasis, TCS, Tech Mahindra, UST Global, Wipro, and Zensar.
CONTENT
Each profile covers the following aspects of the featured service providers:
General overview of the provider's network services business – vision, scale, overall focus, and extent of adoption of the provider's network services across enterprise segments and geographies
Overview of the provider's network services offerings – overall portfolio of services and relative focus across service lines
Assessment of the provider's network services delivery capability, domain investments, key solutions, and key partnerships
Strategic focus areas and market success for network service areas
Membership(s)