Multi-Country Payroll (MCP) Solutions PEAK Matrix™ Assessment and Service Provider Landscape 2019
---
by

Anil Vijayan, Priyanka Mitra, Sharath Hari N, Ravjot Sachdeva
Multi-Country Payroll (MCP) solutions market is among the most competitive and fastest growing markets in the HRO space. MCP solution providers have upped the ante when it comes to providing a truly global payroll experience to their enterprise clients. They are doing significant capability addition to their solutions in terms of dynamic and modern dashboards, advanced analytics, interactive mobile support, and expansion of their global delivery footprint
In this research, we analyze the global MCP solutions market across the following dimensions:
Relative positioning of 15 service providers on the Everest Group PEAK Matrix for MCP solutions
Key strengths and development areas for service providers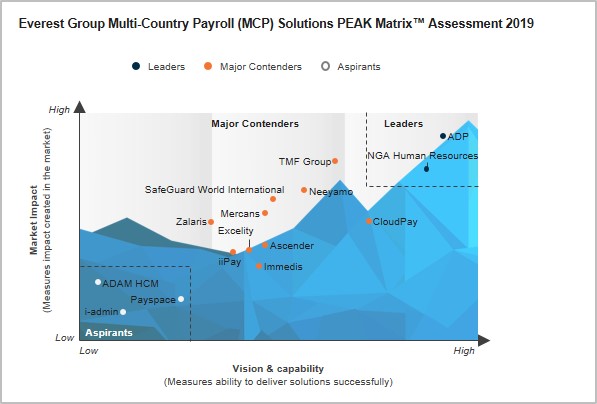 Content
This report examines the dynamics of the MCP Solutions provider landscape. It provides a deep dive analysis of how the providers shape up in terms of their market impact and vision & capability. Based on the comprehensive Everest Group PEAK Matrix, 15 MCP solutions providers are segmented into Leaders, Major Contenders, and Aspirants.
Everest Group has classified 15 MCP solution providers on the Everest Group PEAK Matrix into:

Leaders: ADP and NGA HR
Major Contenders: Ascender, CloudPay, Excelity, iiPay, Immedis, Mercans, Neeyamo, SafeGuard World International, TMF Group, and Zalaris
Aspirants: ADAM HCM, i-Admin, and Payspace

Additionally, this report also contains Everest Group's remarks on each of the 15 MCP solutions provider's strengths and areas of improvement
Membership(s)
---
Page Count: 53