Workday-Based Human Resources Business Process (HR BPS) Services PEAK Matrix™ Assessment with Service Provider Landscape 2019
---
by

Anil Vijayan, Priyanka Mitra, Sharath Hari N, Ravjot Sachdeva
Over the past couple of years, there has been a significant rise in the number of enterprises migrating to SaaS-based platforms such as Workday, SuccessFactors, and Oracle HCM. Workday, which is one of the most popular platforms, has been gaining popularity over the years due to its user-friendly experience and in-built capabilities. In this report, we assess the capabilities of different service providers that provide HR Business Process Services on Workday and evaluate their positioning on the Everest Group PEAK Matrix. The ability to offer services across the consult-to-operate spectrum, along with new generation solutions such as analytics and automation, are some of the key differentiators among service providers. Additionally, the report also includes remarks on service providers, highlighting their key strengths and development areas.
In this research, we analyze the global Workday-based HR BPS market across the following dimensions:
Relative positioning of 10 service providers on the Everest Group PEAK Matrix for Workday-based HR BPS
Key strengths and development areas for service providers
Content
This report examines the dynamics of the Workday-based HR BPS service provider landscape. It provides a deep-dive analysis of how the service providers shape up in terms of their market adoption and vision & capability. Based on the comprehensive Everest Group PEAK Matrix, 10 service providers are segmented into Leaders, Major Contenders, and Aspirants.
Everest Group has classified 10 Workday-based HR BPS service providers on the Everest Group PEAK Matrix™ into:

Leaders: Accenture and Alight Solutions
Major Contenders: Capgemini, Conduent, DXC Technology, IBM, NGA HR, and OneSource Virtual
Aspirants: HR Path and WNS

Additionally, this report also contains Everest Group's remarks on each of the 10 service providers' strengths and areas of improvement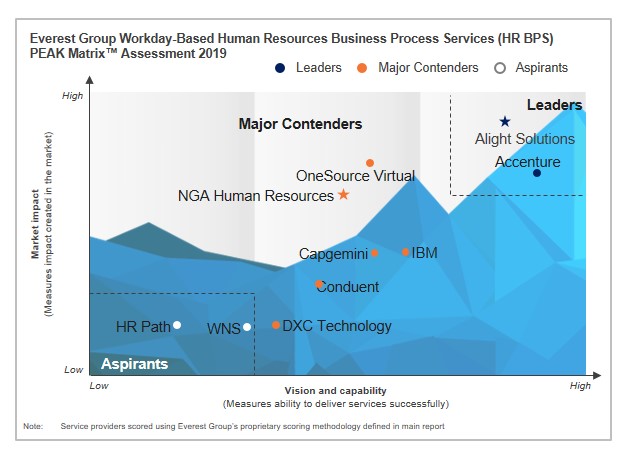 Membership(s)
---
Page Count: 39