Today, "customer-centricity" is the single most significant aspect of product development and service delivery. GICs, a quintessential part of the global service delivery ecosystem, are cognizant of this fact, and many are looking to achieve customer centricity through cross-functional collaboration across IT and operations to achieve benefits such as orientation to customer needs, faster time-to-market, and complimentary digital and transformation agendas of the enterprise. Most importantly, however, is the fact that driving collaboration across IT and operations is a sweet spot for GICs.
Our continued focus on global services delivery and interactions with GICs in this space has helped us in understanding their approach and criteria for shortlisting opportunities for cross-functional collaboration. For many, achieving cross-functional collaboration through structural enablement, i.e., collapsing teams into newer functional units, is difficult given their tighter alignment with the global vertically-aligned Business Units (BUs). While there are other constraints as well (such as funding such initiatives at the GIC-level and internal resistance), GICs have successfully tested different approaches and continue to look beyond the challenges to provide the right environment for testing opportunities identified for cross-functional collaboration.
This viewpoint discusses how GICs are the best placed to drive enterprises' cross-functional collaboration agendas and explores different approaches GICs are practicing.
Scope and Content
This report presents views on the following topics:
Cross-functional collaboration – key benefits and objectives
Key attributes that GICs can leverage in driving the enterprise's cross-functional collaboration agenda
Current market view on cross-functional collaboration in GICs – prevalent approaches to execution and best practices followed
Cross-functional collaboration – future outlook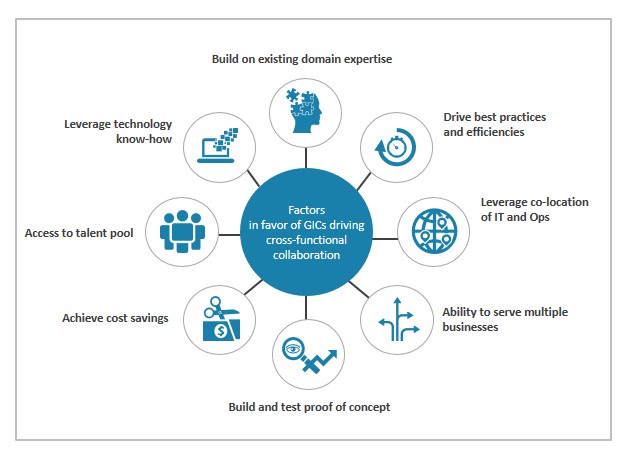 Membership (s)