Capital Markets BPO – Service Provider Landscape with Services PEAK Matrix™ Assessment 2018
---
by

Manu Aggarwal, Robin Jain, Akanksha Pathak
The landscape for capital markets BPO is becoming increasingly competitive as service providers continue to evolve their capabilities, expand their footprint, and gain market share. The incorporated elements such as Robotic Process Automation (RPA), blockchain, and "as-a-service" offerings, are playing a major role in shaping the current landscape of the capital markets BPO..
Service providers, with presence across different Lines of Businesses (LOBs), have started focusing on providing more end-to-end solutions for their clients and are working more like partners than service providers. Buyers are increasingly looking for partners to guide them through their transformation journeys; they are also looking for service providers who can help with risk management and regulatory compliance services.
The capital markets BPO segment has been hit by disruptors from many directions – increasing regulatory pressure on buyers, technology changes, inclusion of more judgment-oriented tasks in the outsourcing deals, etc. Service providers need to find the right balance between various tasks such as deepening their domain expertise; keeping their technology up-to-date; building capabilities in the analytics, Artificial Intelligence (AI), and Machine Learning (ML) aspects; maintaining a diverse delivery footprint to cater to various buyer geographies; and continuing to provide the value for money to their buyers, in order to stay ahead.
Scope and Methodology
In this research, we analyze the global capital markets BPO service provider landscape. We focus on:
Relative positioning of 23 service providers on Everest Group's PEAK Matrix™ for capital markets BPO
Service provider capability assessment across key dimensions
Service provider comments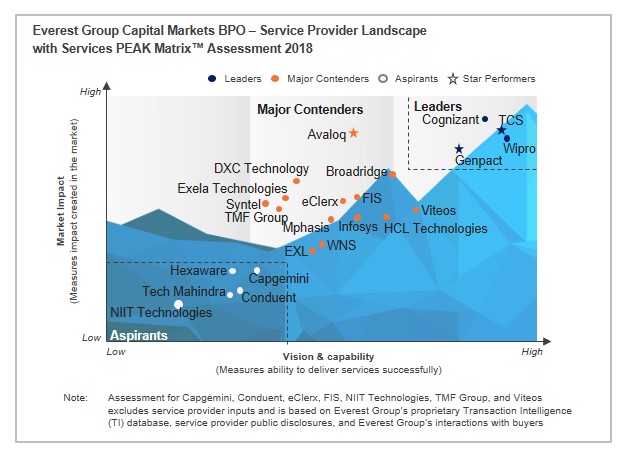 Content
This report will assist key stakeholders (financial institutions, service providers, and technology providers) understand the changing dynamics of the capital markets BPO service provider landscape. It will also help them identify market Leaders, Major Contenders, and Aspirants for 2018. The report provides detailed analysis of the service providers' market share, their relative positioning on the Everest Group PEAK Matrix, and their capability assessment. Some of the findings in the report are:
Cognizant, Genpact, TCS, and Wipro emerged as Leaders
Avaloq, Broadridge, DXC Technology, eClerx, Exela Technologies, EXL, FIS, HCL Technologies, Infosys, Mphasis, Syntel, TMF Group, Viteos, and WNS emerged as Major Contenders
Capgemini, Conduent, Hexaware, NIIT Technologies, and Tech Mahindra are Aspirants on the PEAK Matrix for the capital markets BPO
With a strong performance during 2016-2017, Avaloq, Genpact, and TCS were conferred the "Star Performers" title on the capital markets BPO PEAK Matrix for 2018
Cognizant has the highest capital markets BPO by revenue, whereas DXC Technology has the highest number of capital markets BPO clients
Avaloq, Exela Technologies, Genpact, Tech Mahindra, and WNS witnessed a service line growth of over 10% by revenue
Avaloq, Genpact, Syntel, TCS, and Wipro, together accounted for close to 60% of the YOY growth (2016-2017) in capital markets BPO by revenue
The provider landscape is very different across the LoBs though there are still service providers, that have found their niche and tend to focus on the same
North America is the largest buyer geography for capital markets BPO by revenue. While "Leaders" have a significant presence across most geographies, the market in Continental Europe is largely dominated by Avaloq and DXC Technology
Membership(s)
Banking and Financial Services (BFS) - Business Process Outsourcing (BPO)
---
Page Count: 59