Banking BPO – Service Provider Landscape with Services PEAK Matrix™ Assessment 2018
---
by

Manu Aggarwal, Robin Jain
The banking BPO landscape is quite mature, with most clients, especially those in the United States and the United Kingdom, having a high degree of comfort with outsourcing. They are increasingly looking to service providers to play a more strategic role for delivering value beyond simple cost savings. Many service providers are responding to this shift in the market by actively upgrading their capabilities, whether by the organic route or through acquisitions. Inorganic growth can also be an effective way of entering new markets in an industry where it is typically difficult to dislodge an incumbent.
RPA continues to be an important theme, with clients becoming increasingly aware about what this technology can do for them. The theme of automation is expected to come to the forefront as more advanced forms such as cognitive automation gain traction among enterprises looking to stay ahead in a "digital-first" era.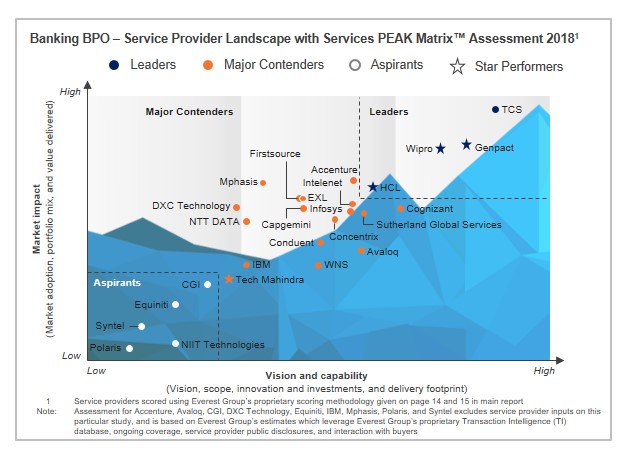 Scope and Methodology
In this research, we analyze the global banking BPO service provider landscape. We focus on:
Relative positioning of 26 service providers on Everest Group's PEAK Matrix for banking BPO
Analysis of service providers' market share
Service provider comments
Content
This report examines the global banking BPO market and its service provider landscape. It provides detailed analysis of the vision and capabilities, as well as market impact of service providers and their relative position on the Everest Group PEAK Matrix. It will assist key stakeholders (banks, service providers, and technology providers) understand the current state of the banking BPO service provider landscape.
Some of the findings in this report are:
Genpact, HCL, TCS, and Wipro emerged as Leaders
Major Contenders include Accenture, Avaloq, Capgemini, Cognizant, Concentrix, Conduent, DXC Technology, EXL, Firstsource, IBM, Infosys, Intelenet, Mphasis, NTT Data, Sutherland Global Services, Tech Mahindra, and WNS
CGI, Equiniti, NIIT Technologies, Polaris, and Syntel are Aspirants on the PEAK Matrix for banking BPO
Conduent, TCS, and Genpact are the three largest banking BPO service providers by revenue, whereas Conduent, Genpact, and Wipro have the largest number of clients
HCL, NTT Data, and TCS together account for over 60% of the total growth (2016-2017) of the banking BPO market by revenue
While lending is the largest and most competitive segment, commercial banking has also been showing signs of robust growth
The United Kingdom shows high growth as well as high competitive intensity; Continental Europe sees overwhelming traction for Avaloq
Everest Group has a complimentary five-page PEAK Matrix preview document for this service provider landscape report.
Membership(s)
Banking and Financial Services (BFS) - Business Process Outsourcing (BPO)
---
Page Count: 51