Recruitment Process Outsourcing (RPO) – Service Provider Landscape with Services PEAK Matrix™ Assessment 2018
The global RPO market continued its strong growth trajectory in 2017 as markets across the globe witnessed positive sentiment towards RPO. The year 2017 saw a few mega-sized deals being signed combined with significant activity in the mid- and small-market space. As the market becomes more competitive, service providers are investing heavily in strengthening their capabilities in different geographies, industries, and recruitment technology.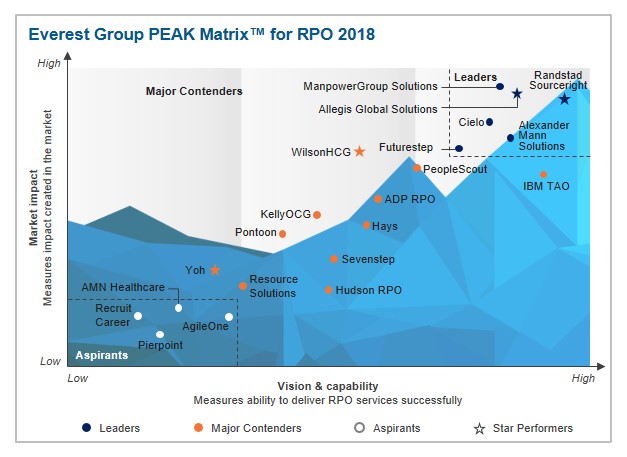 In this research, we analyze the RPO service provider landscape across various dimensions:
RPO service provider landscape overview
RPO PEAK Matrix and Star Performers for 2018
Service provider delivery capability assessment
The scope of analysis includes:
Third-party RPO deals; it does not include shared services or Global In-house Centers (GICs)
Over 2,500 multi-process RPO deals signed as of 2017, with a minimum of four or more recruitment processes and a minimum contract term of one year
Coverage across 21 RPO service providers, namely ADP RPO, AgileOne, Alexander Mann Solutions, Allegis Global Solutions, AMN Healthcare, Cielo, Futurestep, Hays, Hudson RPO, IBM TAO, KellyOCG, ManpowerGroup Solutions, PeopleScout, Pierpoint, Pontoon, Randstad Sourceright, Recruit Career, Resource Solutions, Sevenstep, WilsonHCG, and Yoh
Global survey and one-on-one executive-level buyer interviews to understand how organizations perceive their RPO engagements
Content
The report analyses the performance of various service providers in RPO along six dimensions and includes:
RPO PEAK Matrix and Star Performers for 2018

Everest Group classified 21 RPO service providers on Everest Group's proprietary PEAK Matrix framework into

Leaders: Alexander Mann Solutions, Allegis Global Solutions, Cielo, Futurestep, ManpowerGroup Solutions, and Randstad Sourceright
Major Contenders: ADP RPO, Hays, Hudson RPO, IBM Talent Acquisition Optimization (IBM TAO), KellyOCG, PeopleScout, Pontoon, Resource Solutions, Sevenstep, WilsonHCG, and Yoh
Aspirants: AgileOne, AMN Healthcare, Pierpoint, and Recruit Career

Based on the YOY movement of different service providers on the PEAK Matrix, Everest Group identified six service providers as the "2018 RPO Market Star Performers" – Allegis Global Solutions, Randstad Sourceright, WilsonHCG, and Yoh
Everest Group analysis of service providers

The overall RPO capability of service providers was assessed by evaluating them along seven dimensions – market adoption, portfolio mix, value delivered, scope of services offered, innovation & investments, delivery footprint, and vision & strategy
Everest Group has a complimentary five-page PEAK Matrix preview document for this service provider landscape report.
Membership(s)