Digital adoption has moved from being an IT agenda to an organization-wide agenda, and enterprises are increasingly investing in digital technologies for achieving organizational goals such as driving customer loyalty, improving brand image, combating competition, and staying relevant in the market. Enterprises are challenged by intensifying competition and declining brand loyalty, leading to increased focus on redesigning customer experience. They are exploring and redefining their existing products and services to avoid the wave of disruption from new and innovative business models. Leading enterprises are investing in creating unmatched experiences across various touchpoints and revisiting their channel strategy to break into new customer segments. Service providers too, are realigning their portfolio, acquiring design capabilities, and revisiting their talent strategy to keep pace with the enterprise demand for improved customer experience.
This research presents an assessment and detailed profiles of 22 IT service providers featured on Everest Group's PEAK Matrix for digital services for 2017. The PEAK Matrix is a composite index of a range of distinct metrics related to a service provider's scale, scope, technology/domain investments, delivery footprint, and resultant market success in the context of a given service function.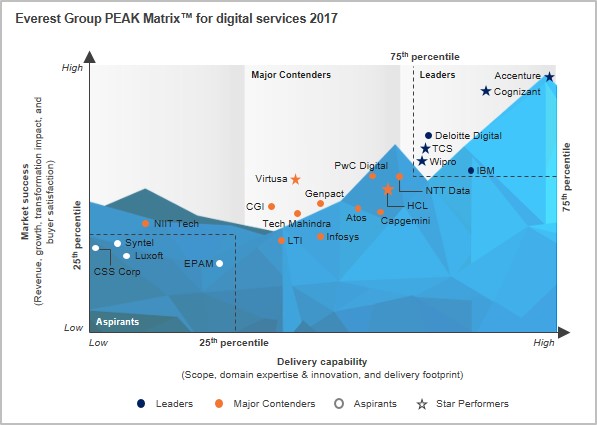 The analysis
This report provides an assessment of IT service providers (native system integrators) and strategy consultants that provide digital services. It includes the following providers: Accenture, Atos, Capgemini, Cognizant, Deloitte Digital, CGI, CSS Corp, EPAM, Genpact, HCL Technologies, IBM, Infosys, LTI, NIIT Technologies, NTT Data, PwC Digital, Luxoft, Syntel, TCS, Tech Mahindra, Virtusa, and Wipro.
Contents
The research focuses on digital services and includes:
Market update on digital services

Emerging trends in digital services
Enterprise investment priorities and focus areas
Imperatives, challenges, and requisites for redesigning customer journey
Service provider expansion of digital portfolio

PEAK Matrix assessment of 22 leading digital service providers
Service provider profiles:

Overview of digital services (key offerings, major industries, geographic spread, and buyer spread)
Key strengths and areas of improvement
Domain investments and proprietary solutions
Digital studios/co-innovation labs
Partnerships/alliances
Everest Group has a complimentary four-page PEAK Matrix preview document for this service provider landscape report.
Membership(s)