Capital Markets BPO – Service Provider Landscape with PEAK Matrix™ Assessment 2017
---
by

Manu Aggarwal, Rajesh Ranjan, Robin Jain
The landscape for capital markets BPO is becoming increasingly competitive as service providers continue to evolve their capabilities and gain market share. The advent of Robotic Process Automation (RPA) is playing a major role in shifting the dynamics of the competitive arena.
The past year witnessed the focus of most service providers shifting from core capital markets offerings to RPA and cognitive automation. While some of the leading providers tried to tap into the automation market by developing their in-house automation capabilities and investing in next-generation cognitive automation technology, others tried to make the most of the RPA opportunity by partnering/collaborating with RPA technology providers such as UIPath, BluePrism, etc.
While focusing on RPA can be a good short-term strategy for the service providers, they also need to identify avenues for the next wave of growth. Moreover, with the industry undergoing disruption from multiple fronts, service providers need to keep their eyes on the emerging technology trends such as blockchain, and be prepared for the impact that these might have on their business.
Scope and Methodology
In this research, we analyze the global capital markets BPO service provider landscape. We focus on:
Relative positioning of 19 service providers on Everest Group's PEAK Matrix for capital markets BPO
Service provider capability assessment across key dimensions
Service provider comments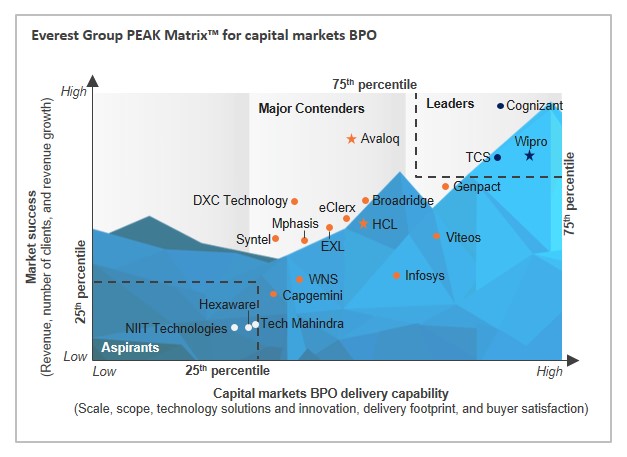 Content
This report will assist key stakeholders (financial institutions, service providers, and technology providers) understand the changing dynamics of the capital markets BPO service provider landscape. It will also help them identify market Leaders, Major Contenders, and Aspirants for 2017. The report provides detailed analysis of the service providers' market share, their relative positioning on the Everest Group PEAK Matrix, and their capability assessment. Some of the findings in the report are:
Cognizant, TCS, and Wipro emerged as Leaders
Avaloq, Broadridge, Capgemini, DXC Technology, eClerx, EXL, Genpact, HCL, Infosys, Mphasis, Syntel, Viteos, and WNS emerged as Major Contenders
Hexaware, NIIT Technologies, and Tech Mahindra are Aspirants on the PEAK Matrix for the capital markets BPO
With a strong performance during 2015-2016, Avaloq, HCL, and Wipro were conferred the "Star Performers" title on the capital markets BPO PEAK Matrix for 2017
Avaloq, Cognizant, and TCS were the top three capital markets BPO service providers by revenue
DXC Technology accounted for close to 25% of the capital markets BPO clients
Cognizant, EXL, Genpact, HCL, Hexaware, TCS, Wipro, and WNS all witnessed a service line growth of over 10% by revenue
Avaloq, Cognizant, TCS, and Wipro, together accounted for close to 70% of the YOY growth (2015-2016) in capital markets BPO by revenue
The provider landscape is very different across the LoBs. This indicates that most service providers have found their niche and tend to focus on the same
North America is the largest buyer geography for capital markets BPO by revenue "Leaders" have a significant presence as well as a more balanced footprint across major geographies
Everest Group has a complimentary four-page PEAK Matrix preview document for this service provider landscape report.
Membership(s)
Banking and Financial Services (BFS) - Business Process Outsourcing (BPO)
---
Page Count: 45