Macro-economic uncertainty, regulatory pressure, and evolving customers' demands are driving profitability pressures in Banking and Financial Services enterprises (BFS). BFS enterprises are taking a digital-first approach to their business models, revisiting and redefining the way they leverage next-generation technologies to tackle growth challenges and evolving customer needs.
Cloud technology is a key enabler in the digital transformation journey of Banking and Financial Services (BFS) enterprises, helping them respond swiftly to customers' demands, reduce operational cost, and enhance the front-office user experience.
In this research, we analyze top 15 BFS enterprises across four geographies (Australia, Europe, United Kingdom, and United States) to understand the role of cloud technology in enhancing the digital experience. These BFS enterprises have been analyzed using Everest Group's proprietary assessment framework, which is a composite index of a range of distinct metrics related to an enterprise investments in cloud technology and digital experience.
The following BFS enterprises have been profiled as part of this research:
Australia and New Zealand Banking Group
Bank of America Merrill Lynch
Barclays Bank
Capital One
Citibank
Commonwealth Bank
Deutsche Bank
HSBC Bank
ING Group
JPMorgan Chase
Llyods Banking Group
Nordea Bank
Royal Bank of Scotland
Wells Fargo
Westpac
The research also includes a detailed study and profiles on leading cloud service providers (Amazon Web Services, IBM, Google Cloud, Microsoft Azure, and Oracle Cloud) and their offerings catering to the needs of BFS enterprises.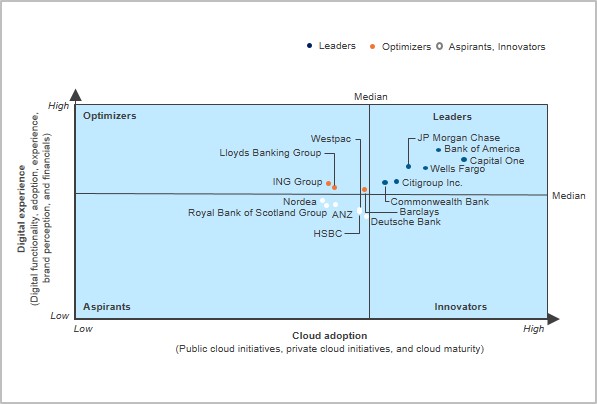 SCOPE OF THE ANALYSIS

Industry: Banking and financial services
Geography: Australia, Europe, United Kingdom, and United States

SOURCES LEVERAGED
Only publicly-available information (i.e., information from a consumers' lens) has been used for the entire analysis in this report:
Google Play and iTunes
Demos / consumer access of mobile apps and online platforms of different retail banks
Social media platforms – Twitter, Facebook, LinkedIn, YouTube, and Google+
Aggregators/tools – Alexa, Likealyzer, SEMRush, SocialBlade, Twitonomy, and XYO
Company filings and press releases (annual reports, investor presentations, SEC filings, etc.)
Membership(s)
Banking, Financial Services & Insurance (BFSI) - Information Technology Outsourcing (ITO)