Uncertainty in the geopolitical and macroeconomic environment, changing regulatory landscape, sluggish growth, and threat from next-generation financial technology firms (FinTech's) revolutionizing customer experience and offering differentiated services are the key challenges being faced by capital markets enterprises. These challenges have forced enterprises to revisit their business model and redefine the way they leverage technology and interact with their customers. Capital markets enterprises worldwide are exploring/experimenting with the latest technologies, such as robotic process automation, blockchain, machine learning, cloud, and robo-advisory, to offset some of the above mentioned challenges and simultaneously bring in efficiencies and drive down cost of operations.
To cater to the contemporary needs of the capital markets industry, IT service providers are also realigning their value proposition through investments in building IPs, solutions, frameworks, and accelerators, helping clients to swiftly adapt to risk & regulatory changes, take products faster to market (by implementing agile & DevOps methodology), and drive cost reduction by leveraging cutting-edge technologies. They have shown strong propensity to build consulting capabilities and act as strategic partners to capital markets enterprises
In this research, we analyze the current trends and the future outlook for large, multi-year application outsourcing relationships in the global capital markets sector. We have assessed 27 capital markets AO service providers on their capabilities for providing these services globally. These providers were mapped on the Everest Group Performance | Experience | Ability | Knowledge (PEAK) Matrix, which is a composite index of a range of distinct metrics related to each provider's capability and market success. In this report, we focus on:
Assessment of the service providers on a number of capability-related dimensions
Characteristics of Leaders, Major Contenders, and Aspirants on the Everest Group capital markets AO PEAK Matrix™
"Star Performers" of 2017, providers with the strongest forward movement over time – in terms of both market success and capability advancements
Implications for capital markets buyers and service providers
SCOPE OF THE ANALYSIS
Market trends and activity for large AO relationships in capital markets firms
Capital markets AO PEAK Matrix™ characteristics
Capital markets AO service provider characteristics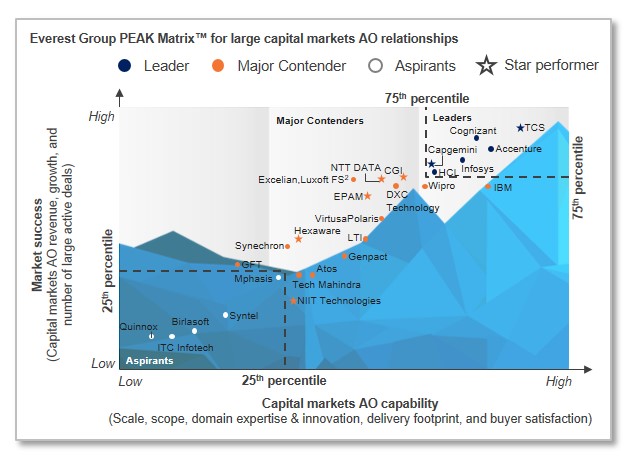 CONTENT
This report analyzes IT applications outsourcing in the global capital markets subverticals with a focus on large (TCV >US$25 million), annuity-based, multi-year (over three years) relationships:
Capital markets trends and its implications for key stakeholders
Everest Group Performance Experience Ability Knowledge (PEAK) Matrix for capital markets AO
Star Performers in the 2017 capital markets AO PEAK Matrix
Capital markets AO PEAK Matrix characteristics:

Market share and scale
Scope characteristics
Domain investments
Delivery footprint
Market activity

Profiles of capital markets AO service providers
Everest Group has a complimentary four-page PEAK Matrix preview document for this service provider landscape report.
Membership(s)
Banking, Financial Services & Insurance (BFSI) - Information Technology Outsourcing (ITO)