The banking industry is undergoing transition, triggered by rapidly-changing customer demands, challenging operating environment, and disruption in technologies. Banking in the future will no longer be dependent on branches and will be ubiquitous through multiple digital channels and devices. In 2016, banks made massive investments to transform their business into digital, which has impacted not just the service providers and the technology firms but also the FinTechs they invested in, partnered with, or acquired.
As the market decelerated, service providers witnessed moderate growth. The industry witnessed consolidation resulting in synergy gains and scale benefits to smaller players. As parallel demand emerged for implementing new digital technologies and modernizing existing legacy systems, service providers invested in reorienting themselves to rotate to digital, as well as gain domain expertise through in-house innovation, partnerships, and acquisitions.
In this research, we analyze the current trends and the outlook for large, multi-year application outsourcing relationships in the global banking sector. We have assessed 28 banking AO service providers on their capabilities for providing these services globally. These providers were mapped on the Everest Group Performance | Experience | Ability | Knowledge (PEAK) Matrix, which is a composite index of a range of distinct metrics related to each provider's capability and market success. In this report, we focus on:
Assessment of service providers on capability-related dimensions
Characteristics of Leaders, Major Contenders, and Aspirants on the Everest Group banking AO PEAK Matrix™
"Star Performers" of 2017, providers with the strongest forward movement over time – in terms of both market success and capability advancements
Implications for banking buyers and service providers
SCOPE OF THE ANALYSIS
Market trends and activity for large AO relationships in banking firms
Banking AO PEAK Matrix™ characteristics
Banking AO service provider characteristics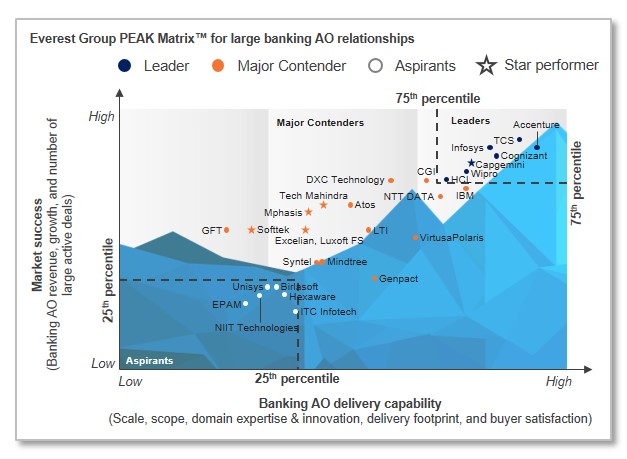 CONTENT
This report analyzes IT applications outsourcing in the global banking subverticals with a focus on large (TCV > US$25 million), annuity-based, multi-year (over three years) relationships:
Banking trends and its implications for key stakeholders
Everest Group Performance Experience Ability Knowledge (PEAK) Matrix for banking AO
Star Performers in the 2017 banking AO PEAK Matrix
Banking AO PEAK Matrix characteristics:

Market share and scale
Scope characteristics
Domain investments
Delivery footprint
Market activity

Profiles of banking AO service providers
Everest Group has a complimentary four-page PEAK Matrix preview document for this service provider landscape report.
Membership(s)
Banking, Financial Services & Insurance (BFSI) - Information Technology Outsourcing (ITO)