Banking BPO – Service Provider Landscape with PEAK Matrix™ Assessment 2017
---
The banking BPO landscape is becoming increasingly competitive even as enterprises look to service providers as a source of business transformation rather than mere providers of labor arbitrage benefits. RPA continues to grow in importance, with service providers promising increasing degrees of manual effort reduction to their clients. While many service providers have partnerships with RPA providers, the most successful ones are able to differentiate themselves by carefully studying their clients' existing processes for inefficiencies, thereby increasing the impact of RPA when implemented.
While the banking BPO market is maturing, other promising avenues of growth remain. The North American region and large banks in all other regions have traditionally been the biggest contributors to the banking BPO market. In the next few years, however, growth is likely to be spearheaded by Europe and emerging geographies such as Asia Pacific, as well as by small and mid-sized banks. Service providers will need to adapt their offerings and value proposition to these new segments. Meanwhile, enterprises will need to take a carefully considered approach to outsourcing by identifying the areas where they are likely to benefit and the service providers that are best placed to deliver both cost saving and process improvement.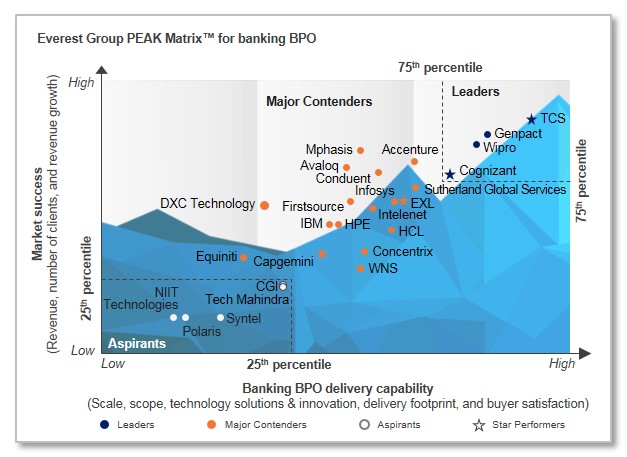 Scope and Methodology
In this research, we analyze the global banking BPO service provider landscape. We focus on:
Relative positioning of 26 service providers on Everest Group's PEAK Matrix for banking BPO
Analysis of service providers' market share
Service provider comments
Content
This report examines the global banking BPO market and its service provider landscape. It provides detailed analysis of the capabilities and market performance of service providers and their relative position on the Everest Group PEAK Matrix. It will assist key stakeholders (banks, service providers, and technology providers) understand the current state of the banking BPO service provider landscape.
Some of the findings in this report are:
Cognizant, Genpact, TCS, and Wipro emerged as Leaders
Major Contenders include Accenture, Avaloq, Capgemini, Concentrix, Conduent, DXC Technology, Equiniti, EXL, Firstsource, HCL, HPE, IBM, Infosys, Intelenet, Mphasis, Sutherland Global Services, and WNS
CGI, NIIT Technologies, Polaris, Syntel, and Tech Mahindra are Aspirants on the PEAK Matrix for banking BPO
Conduent, TCS, and Genpact are the three largest banking BPO service providers by revenue, whereas Conduent, Genpact, and Wipro have the largest number of clients
EXL, Genpact, and TCS together account for over 55% of the total growth (2015-2016) of banking BPO market by revenue
DXC Technology and EXL both witnessed a Year-on-Year (YOY) growth of over 20% by revenue
Lending sees the highest competitive intensity among all the LOBs while commercial banking is dominated by two players – TCS and Genpact
United Kingdom is the most competitive geography, while Continental Europe sees strong domination by Avaloq, with almost two-thirds market share
Everest Group has a complimentary five-page PEAK Matrix preview document for this service provider landscape report.
Membership(s)
Banking and Financial Services (BFS) - Business Process Outsourcing (BPO)
---
Page Count: 44